Ward North American Receives Commitment to Excellence Gold Award
at Cartus 2018 Global Network Conference
San Antonio, TX (October 24, 2018) – Ward North American was honored for outstanding performance at Cartus Corporation's 2018 Global Network Conference, held October 15-16, 2018 at the Sheraton Seattle Hotel in Seattle, Washington. The Cartus Global Network is Cartus' industry-leading worldwide service provider network. Each year, Cartus recognizes the companies and individuals in the Network who have provided extraordinary service to their customers and clients worldwide. The theme of this year's conference was "Move Ahead."
Ward North American was named winner of the Global Network Commitment to Excellence Gold Award for its exceptional service results. This award recognizes a supplier's measurable commitment to excellence and is presented to Global Network service providers who have distinguished themselves by achieving critical performance metrics.
"It is no surprise to anyone in this business that relocating, and the decisions associated with it, can be one the most stressful times in a person's life.  Ward North American one of the Cartus Global Network providers that continually work at alleviating some of these stress factors by going above and beyond for the customers as well as for Cartus," said Mike Brannan, senior vice president, Global Supply Chain Management. "This award acknowledges their unparalleled work ethic, compassion, professionalism and commitment to excellence."
"Cartus has always maintained rigorous criteria and performance standards for their Network providers, but also for the recipients of the Gold Commitment to Excellence award," said Kate Houston, Director, Client Services, Ward North American. We're proud to be a part of Cartus' Global Network, and to have received this honor, which recognizes our mutual commitment to quality, superior service and to finding innovative ways to provide that service in the changing face of relocation.
About Cartus
For more than 60 years, Cartus has provided trusted guidance to organizations of all types and sizes that require global relocation solutions. Providing the full spectrum of relocation services, including language and intercultural training, Cartus serves more than half of the Fortune 50 and has moved employees into and out of 185 countries. Cartus is part of Realogy Holdings Corp. (NYSE: RLGY), a global leader in real estate franchising and provider of real estate brokerage, relocation and settlement services. To find out how our greater experience, reach, and hands-on guidance can help your company, visit www.cartus.com; read our blog; or click www.realogy.com for more information.
All Ward North American Facilities Recognized as Pursuit of Excellence Winners by northAmerican Van Lines 
SAN ANTONIO, TX (April 26, 2018)
Gold Award Winners: Ward North American – San Antonio; Houston; Austin; Phoenix, AZ
Silver Award Winners: Ward North American – Killeen; Garland, TX          
The Pursuit of Excellence program challenges the agents of northAmerican Van Lines to improve performance related to eight moving industry metrics: summer capacity growth, hauling growth, book/haul ratio, safety/CSA (compliance, safety, accountability), customer service ratings, claims frequency, claim severity, and sales growth. An agent achieves an award based on the number of objectives met during the year.
"northAmerican is a proud and historic brand in the moving and services industry," says Andy Kroll, Vice President and General Manager of northAmerican Van Lines. "Our Pursuit of Excellence winners personify our van line's strong commitment to providing our customers with a consistently exceptional level of service. Our organization is exceedingly proud to have these high performers as part of the northAmerican Van Lines family."
"The Pursuit of Excellence program rewards individual northAmerican agents and their teams for excellence," adds Bill Gray, Chairman, North American Mover's Association. "Through such individual motivation, the Pursuit of Excellence program will help create a 'winning' culture for our entire northAmerican agent network."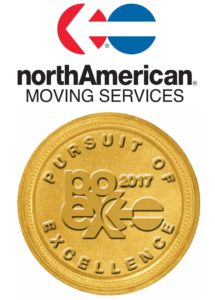 northAmerican Van Lines Recognizes Brad Bachmeier 2017 Driver of the Year
SAN ANTONIO, TX (April 17, 2018)
In February of this year, northAmerican Van Lines named Ward North American driver Brad Bachmeier at their Driver of the Year for 2017. Mr. Bachmeier was recognized at the annual Operations Conference held this past weekend in Fort Wayne, IN.
northAmerican Van Lines uses a rigorous method to assess the Top Quality Haulers' performance records in several key areas including safety, quality survey results and claims.
Brad's overall performance and outstanding quality scores are directly attributable to his dedication and commitment to providing world-class service to our customers.
northAmerican Van Lines Names 2017 Agent of the Year
This is the 11th Time that Ward has Received Van Line's Top Honor
CHICAGO (November 14, 2017) — North American Van Lines, Inc., one of the world's largest moving companies, recognized Ward North American of San Antonio, Texas as 2017 Agent of the Year. This represents the 11th time that Ward North American has been awarded the van line's top agent honor.
"northAmerican pursues excellence by assuring superior customer service and quality performance," said Andy Kroll, VP and General Manager of North American Van Lines, Inc. "Each year, we select one agent that embodies this pursuit and passion for excellence.  Our winner this year, Ward North American, is clearly a role model for our entire network. And after winning this honor 11 times, Ward is surely a role model for the entire industry as well."
"To me, winning the 'Agent of the Year' award from northAmerican compares to winning a championship," says Kevin Ankenbauer, President of Ward North American. "It takes a passion to win and a disciplined culture of caring for our customers and our co-workers to achieve results deserving of this recognition. I am extremely proud of our team of employees and drivers for achieving and maintaining such a high standard within our network of agents!"
Adds Ankenbauer, "Winning this award numerous times over our company's history validates our consistent execution of service delivery, and gives me confidence that the Ward North American brand will endure for many years to come."
The northAmerican Van Lines Agent of the Year award recognizes the agent that attains the best overall scores in categories including service quality, hauling growth, sales growth, safety performance, and demonstrates the "Power of Blue" in supporting their fellow agents and customers. The agent must also demonstrate a significant increase in total number of moves and total (hauling and booking) revenue for the year.
About Ward North American
Ward North American is a nationally recognized provider of household goods moving and storage services. Through unparalleled hiring practices, training processes and quality assurance measures, Ward North American strives to redefine the industry with every move. Ward North American has proudly represented northAmerican Van Lines for 40 years. Headquartered in San Antonio, Texas, Ward North American operates from five locations in Texas and one in Arizona. Ward North American employs a staff of nearly 600 and operates a dedicated national fleet of over 100 drivers. Find out more at www.wardnorthamerican.com.
About North American Van Lines, Inc.
North American Van Lines, Inc., established in 1933, is a wholly owned subsidiary of SIRVA Inc., a leader in providing relocation solutions to a well-established and diverse customer base around the world. The moving company, with headquarters in Fort Wayne, Indiana, and more than 500 agents worldwide, handles corporate, government, military and private relocations, and operates in the U.S., Canada and more than 100 countries worldwide.  Information on North American Van Lines (U.S. DOT No. 070851) can be found on the Internet at www.northamerican.com.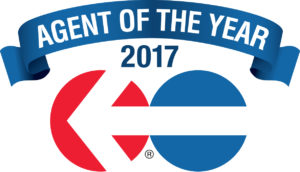 Ward North American Named Top Van Line Agency for 2014
ALEXANDRIA, Va. – Ward North American, a full-service relocation company and agent for North American Van Lines, is the winner of the highly-coveted 2014 Moving & Storage Agent of the Year Service Excellence Award from the American Moving & Storage Association (AMSA), the national trade association for the professional moving and storage industry. Ward was selected for the award by a panel of experts from more than 2,400 eligible organizations across the country. The company will be presented with the award during the AMSA's 96th Annual Education Conference & Expo in Orlando, February 8-11, 2015.
The award reflects AMSA's and the industry's commitment to excellent customer service, and is presented to agents nominated by their affiliated van line based on customer surveys and van line experience. Nominations are judged primarily on customer service assessments and other industry awards and recognitions. Consideration is also given to factors such as leadership, innovation, community involvement, and activities that enhance the industry's image.
"Ward North American has earned this honor in recognition of their excellent dedication to improving the industry, commitment to employees and support for the local community," said AMSA Acting President and CEO Scott Michael. "We are proud they are a member of AMSA and a participant in the ProMover program, which helps consumers easily find a quality, professional mover."
Based in San Antonio, Texas, Ward North American operates from five locations in Texas and one in Arizona. The company has grown from a small mom-and-pop location doing about $250,000 a year with five trucks and 10 employees in 1993 to about $50 million annually with 110 trucks and more than 600 employees today. Ward does not use any contractors for packing or other local services, and all local crews are Ward-trained employees.
In 1994, Ward started Ward University, which provides 40+ hours of classroom training and testing to drivers, crews, office staff and other North American agents. The University covers all operational aspects, including customer service practices, driver performance, employee self-esteem and how to achieve excellence.
"We are thrilled at having been selected for this prestigious honor as it recognizes our dedication to the pursuit of excellence within our organization and within the industry. It's this dedication that makes us exceptional in the eyes of our employees, customers and peers," said Kevin Ankenbauer, President and CEO of Ward North American. "At Ward, we change the lives of our employees in the name of excellence. Our employees then take the skills that they learn at Ward University and impart them to our customers, making us an organization with an appetite for continuous learning and improvement."
STEP, the Superior Terminal Efficiency Program, has been so successful at ensuring each Ward office operates the same way that North American Van Lines has asked Ward to assist in training other of their multi-agent locations on the same process. Ward has and been recognized as North American Van Lines' Agent of the Year in 10 of the past 12 years. The company also supports local philanthropic activities, including the United Way in Texas.
"Ward North American has won 'Agent of the Year' from North American Van Lines many times. Our prestigious 'Agent of the Year' award recognizes the agent that attains the best overall scores in several key categories where customer service and quality are primary and paramount," said Andy Kroll, Vice President & General Manager of North American Van Lines. "Ward North American is a great example of what a company can achieve when it puts quality first and executes it flawlessly. They are a great example for our entire professional moving industry and a well-deserved recipient of this special recognition from AMSA. We are so proud of Ward and honored to have them on our team."
Each year AMSA recognizes the best performing and highest achieving individuals and companies in the industry. The awards program receives many impressive nominations reflecting the dedication and diversity of the business sector. Recipients have made significant contributions and enhanced the image of the moving and storage industry through hard work, dedication to customer service, and commitment to quality practices.
The American Moving & Storage Association (AMSA), home of the ProMover program, is the national trade association representing the nation's moving and storage companies, which provide household goods moving services, specialized transportation for sensitive freight such as computers and trade show exhibits, and warehouse storage services. AMSA has approximately 4,000 members, including domestic and international companies and industry suppliers, and supports programs and activities that promote consumer protection, professional development, safety, and operational efficiency. Find out more at ProMover.org and Moving.org.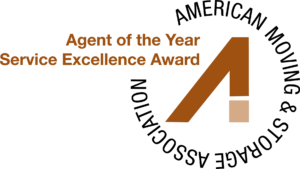 Ward Breaks Ground On New Phoenix, AZ Facility
Relocation business leader, Ward North American, announced today that it is breaking ground on a new, innovative and state-of-the-art office, terminal and warehouse facility to serve the Greater Phoenix vicinity. Speaking from Ward corporate headquarters in San Antonio, Texas, President and CEO, Kevin Ankenbauer, advised that this new construction confirms that Ward's decision to expand to Arizona four years ago has been proven to be very successful. In addition, it makes it possible for the premier moving and storage operation to grow its Phoenix business base through advanced storage and service capacity additions.
In a innovative move, Ankenbauer revealed that senior management for the Phoenix branch, General Manager Wes Waddell and Commercial Manager Dave Pitcox, were participating in the investment and ownership of the land and building. Again, Mr. Ankenbauer wanted to emphasize his commitment and that of the entire Ward group in its focus on supporting future growth and stability for Wards Phoenix representation. Facility construction is located at South 65th Avenue and Sherman Street with completion set for mid 2011.
PRESS RELEASE: Recipient is permitted to edit at will so long as intent of message is maintained. Additional details can be obtained by contacting either Wes Waddell or Dave Pitcox at 602/233-0146. Corporate information can be obtained from Mr. Kevin Ankenbauer at 888/909-3147.
Ward North American Receives "Agent of the Year"
North American Van Lines names Ward North American, a San Antonio moving company, as Agent of the Year for 2009/2010. Ward North American was chosen over 500 other NAVL moving agencies nationwide for the ninth consecutive year to win the award.
San Antonio, TX, October 19, 2010 – Ward North American, one of America's premier moving and storage agencies, was awarded the Agent of the Year award for 2009/2010 by North American Van Lines.
With this 2009/2010 award, Ward North American has been chosen as North American Van Lines' Agent of the Year for the ninth consecutive year. Ward North American was in a competition with more than 500 other NAVL moving agencies nationwide for the top honor. The Agent of the Year award is one of the most distinguished awards an agent can earn from the van line, representing the highest standards of quality service.
Receiving the honors on behalf of the San Antonio mover was its President and CEO Kevin Ankenbauer. Ankenbauer told the crowd of hundreds of North American Van Lines agents that in the midst of a global recession, his agencies continued to hold their own and even grow by focusing on service excellence. Ankenbauer also confirmed Ward's expansion into Houston, TX in the past 12 months, adding to their presence in Dallas, Austin, Killeen, TX and Phoenix, AZ.
Ward North American specializes in the movement and storage of household goods shipments on behalf of America's major corporations. Ward has been singled out for recognition by its clients for their attention to detail and care and consideration for the challenges faced by the employees and families being moved domestically and internationally. Ankenbauer committed to the continuation of the fundamental customer service elements of "Doing what we say we're going to do…doing it when we say we're going to…and getting the service right the first time."
About Ward North American:
As an agent for North American Van Lines, Ward North American is able to perform any size household or commercial move, anywhere in the world. The full-service moving and storage company is small enough to remain customer-focused, committed. Ward North American's experienced staff and high level of individualized service is what sets the company apart from other movers.
Ward Sponsors 5K Run for Charity
May 8th- Birmingham, AL: Ward North American is a proud sponsor of the 1st annual Mt Laurel in May 5K, and 1 Mile Fun Run, to benefit the Pancreatic Cancer Action Network www.pancan.org. Along with other corporate sponsors, race participants, and generous contributions from the community, the race raised over $4500.00 benefitting The Pancreatic Cancer Action Network.
About the Pancreatic Cancer Action Network www.PANCAN.org: "The only national organization creating hope in a comprehensive way through research, patient support, community outreach and advocacy for a cure." Please visit their site to learn more about how you can get involved in your community, join a local volunteer affiliate in your area, organize or attend a fundraising event.