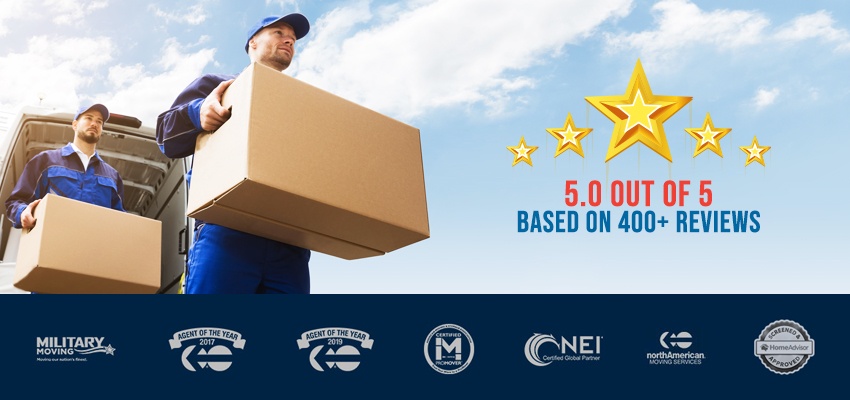 We are the Little Elm movers trusted by thousands of people for thousands of moves to, from and within this city near Dallas, TX. Ward North American has been performing local, long distance and international moves since 1977, and our expertise ensures a seamless, worry-free move. Whether you are moving your home, business, high-value products or otherwise, we have your customized, competitively-priced solution. Our comprehensive residential and commercial relocation services are only matched by our dedication to exceptional moves. We care so much, it's moving.
The Best Choice Among Little Elm Moving Companies!
Contact Ward North American today at to discuss your upcoming move. Fill out our quick and easy quote form to request your free in-home moving estimate today. Ward North American is proud to be the Little Elm movers of choice for every relocation.
Residential Moving: Trust Ward North American to move your household goods all over the world with our local, long distance and international moving services.
Commercial Moving: Discover why we are the experts at providing a diverse range of commercial moving services, from hotel installation to office moves.
Specialized Moving: Transport high-value goods with the highly-trained professionals and specialized equipment from Ward North American. Our specialized moving services include: lab & medical equipment, computers, piano & fine art, pool tables and more.
Storage: Store your household goods and commercial commodities within our expansive warehouses for the most secure, flexible storage services.
Corporate Relocation: Relocate employees seamlessly, anywhere in the world, with Ward's corporate relocation solutions and Move Management services.
International Moving: Move overseas with a trusted partner by your side with Ward North American and our worldwide network that spans the globe.
The team we worked with was out of San Antonio and they were awesome! We were moving an entire office building and they knocked it out of the park the entire time. They worked together so well. We will certainly hire Ward North American if we have future moves. -Brittany M.
Learn more about the high-quality, cost-effective services we provide as a Little Elm moving company! Contact us today, and one of our knowledgeable professionals will be happy to discuss your upcoming relocation and/or storage needs. Or, get your move started today with your Little Elm, TX movers! Request your FREE in-home estimate by filling out our quick and easy online quote form!
Services Areas Around Little Elm
And Many More….Call for Details
Contact Us Today!