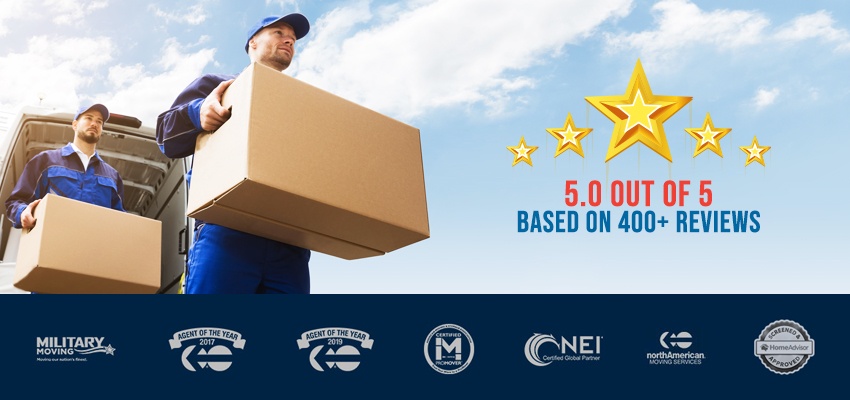 As Buckingham movers, Ward North American is most trusted for full-service relocation and storage services. We have moved thousands of people for thousands of moves since 1977, ensuring we have the expertise needed for an exceptional move experience. Whether you have a local, intrastate, interstate or international relocation, Ward North American has the services you need at the prices you want. Our full range of services include household moves, office moves, high-value products shipping, warehousing and distribution, storage and many more commercial and residential moving services. At Ward, your move is our priority. We care so much, it's moving.
Request your free in-home moving estimate right now by filling out our online quote form! Want to learn more about why we are the best Buckingham movers? Contact us today at to discuss your upcoming move with one of our friendly professionals.
Moving Services
Residential Moving
Let Ward North American transport your household goods anywhere in the world with a focus on safety and cost-efficiency.
Commercial Moving
Choose from our wide range of commercial moving services, whether you are moving your business, hotel, university or just require a rigging service.
Specialized Moving
Transport high-value products with the specialized moving experts at Ward for the peace of mind, knowing your irreplaceable goods will arrive securely and on-time.
Storage
Store your household goods or commercial products within our more than 260,000 square feet of storage space in one of our immaculate warehouses.
Corporate Relocation
Relocate employees and their families with the Move Management services businesses and employees rely on for seamless and cost-effective relocations.
International Moving
Move overseas with Ward North American and our global network of resources, with a presence in more than 175 countries around the world.
Learn more about the high-quality, cost-effective services we provide as a Buckingham moving company! Contact us today, and one of our knowledgeable professionals will be happy to discuss your upcoming relocation and/or storage needs. Or, get your move started today with your Buckingham, TX movers! Request your FREE in-home estimate by filling out our quick and easy online quote form!
Services Areas Around Buckingham / Ft Worth
And Many More….Call for Details
Contact Us Today!