Here are some of the most Frequently Asked Questions by people who are moving or planning to move with Ward North American. Click on each category below to view the full list of questions and answers within each moving step.
Choosing a mover
Can I negotiate moving costs or get discounts?
Yes, it is possible to take advantage of special moving rates. Some interstate movers offer discounted rates to seniors and students. Be sure to check out if you are eligible for promotional rates or special holiday prices.
Can you provide references and recommendations from local customers in my area?
Check out what satisfied local customers have to say about your shortlisted movers. Consider checking online review forums and sites. You can find local customer reviews by checking the reviews on Google My Business or Google Maps. Read
Ward North American reviews on Google
.
Do I need an estimate?
Yes. Try to get estimates from at least 3-4 movers for a local move, and 4-6 estimates when making an
interstate move
. It is advisable to actually have representatives come over to your place to see the items that need moving.
Do movers charge extra for packaging supplies?
Customers may be charged for boxes, tapes, or any stationery movers make use of for your items.
How can I check if a mover is genuine?
Check 3 things – ProMover (AMSA) designation, DOT (Department of Transport) number and MC (Motor Carrier) license. Every reliable mover will be equipped with these three. But don't be convinced until you check out the DOT on
https://safer.fmcsa.dot.gov/CompanySnapshot.aspx
How can I find a good, reliable mover?
Word of mouth is the way to go. Ask family and friends who have availed of moving services and then check them out yourself. Besides, there are many online forums and review sites where you can read about the experiences and recommendations of real users.
How can I make the payment for my move?
Ask your mover if they accept credit card or cash payment or even checks. It is fair to remember that customers most likely have to pay the truck driver before their goods are unloaded at the delivery location.
How do movers calculate the weight of items to be moved?
Movers load the truck with your items and then the vehicle is weight on an officially verified weighing machine. This gives the weight of your stuff.
How long has your company been around in the industry?
As an agent for North American Van Lines, Ward North American has over 40 years of experience in the moving industry. When choosing a moving company, ask the mover if they have just started out or are an established brand. Companies which have spent a long time in the trade usually have more exposure to different moving jobs and are more likely to provide satisfactory services.
How much do movers charge for their services?
2 factors decide the moving cost – weight and number of items, and distance traveled. Today, most movers offer free estimates based on these factors before you book your things with them. They may send a representative to your home to see your items. The actual cost can only be determined on the move day itself. Any insurance you opt for will be added to the total cost. Customers will also need to pay extra for additional services. This applies to interstate moves as well.
Is it better to get estimates over the phone or schedule a home visit?
Be very suspicious of movers who insist on estimates over the phone or email without even taking a look at the stuff. The Better Business Bureau urges customers to ensure movers come for an in-home estimate to avoid getting scammed.
Is it better to pay in cash or by card?
If expert opinion is to be followed, paying in cash is not a good idea since you miss out on a transcript. Your credit card bills and checks are proofs of payment and can be used in case of any payment dispute. Customers are however encouraged to pay cash tips to movers.
Should I take the lowest estimate?
Before accepting any offer, it is usual to compare rates from several movers. Since their prices vary by a standard 15 percent, you will get competitive estimates. This is because they know what it takes to move. Experts say that it is best to avoid service that offer markedly low prices.
What are the important questions to ask a moving business?
Customers may ask a few key things about the business – Have they been in operation for several years or just started out? Who would be in charge of your move – company recruits or contractual staff?
What are the most important things to remember for an in-home estimate?
Two things are absolutely essential – 1) an inventory list of all the items that need moving and 2) features of the delivery address. It is useful to show the estimator all your things around the house, in the basement and in the backyard. Another thing to inform the mover about is the condition of the final location – whether they have to move up stairs or whether the street is broad enough for a large truck and the like.
What cancellation policy do you follow for delayed or rescheduled moves?
It is best to ask your estimator about delays or rescheduling. If your move date changes, ask if they offer free cancellation or charge a fee beyond a certain date.
What do movers charge on an average?
Interstate moves typically cost more than in-state moves. As per the American Moving and Storage Association, the former runs to over $5000 while the latter sets you back by at least $1000. Talk to movers and get estimates from as many of them as possible. There will always be a mover who fits your budget and move requirement.
What does a binding estimate mean?
A binding estimate is the flat cost of moving as per your items, default services and mover charges. If you require special services, for example, packing, or additional small trucks, the total cost may increase. A binding estimate stays valid for 30 days.
What does a binding not-to-exceed estimate mean?
It is an estimate of your moving cost beyond which the mover cannot charge you. This is the cost limit on their service.
Will movers help me unpack at my new home?
It is best to ask the mover if they will assist you in unpacking your boxes. Often movers outsource this to subcontractors. If this is the case, it is a good idea to run a background check on the subcontractor company.
If you have only a few boxes, your items will be loaded onto a truck carrying similar smaller moves. In this case, your mover will give you a list of probable delivery dates instead of one. Be sure to be available on those days.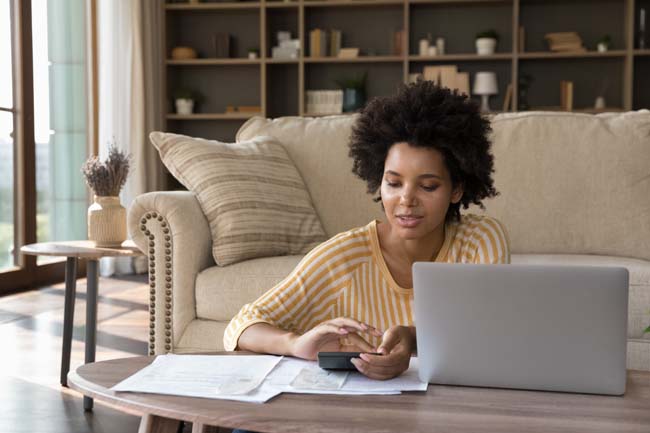 Preparing to move
What is the right time to book with a mover?
At least a month before your scheduled move. Some customers prefer calling movers 6 weeks ahead of the date to avoid last minute complications.
Can I claim homeowners insurance if my stuff is damaged in the move?
If you have insured any item against damages caused by fire or accidents, and the item does get damaged in transit, you can claim the cover. Experts say it is best to consult your insurance company for on the insurance terms for hassle-free claim settlement. Usually homeowners insurance covers damage caused in moving.
Can I make an estimate of the moving cost on my own?
You can always arrive at an approximation. Check out online sites. Many moving businesses offer free cost calculator tools. For detailed pricing reports, contact local movers and ask them for in-home estimations for interstate moves.
Can I save money if I pack myself?
Doing some or part of the packing yourself can cut down on costs
Do I need to make an advance payment to the mover?
You may be required to pay at least 20% of your moving cost as a deposit. Consider asking your mover if this is refundable in case the move gets rescheduled or even cancelled.
Do I really need to hire a mover?
Hiring professional movers reduces the chances you'll get injured moving heavy and awkward items twice, once on the packing and once of the delivery end. Also, movers will have the right equipment to move your items. Hiring them also frees you up to finish all the last minute details of your move.
Do large items mean additional charges?
It differs from mover to mover. It is best to ask the mover during a face-to-face estimation. Make sure the mover clarifies the charges for big or heavy items; especially if those are things that you cherish and can't leave behind.
Do movers deliver on an agreed-upon date or are there delays?
Usually interstate moves take more than a couple of days to finish. In such cases, your moving company will offer you a time frame of expected delivery. When you are finalizing terms, take a moment to see if the window is suitable for you. They must fulfill your moving needs.
Do movers offer storage facilities?
Most movers offer storage services either at their own facility or use a third party storage. They levy additional charges for storage and delivery. Ask them beforehand what the storage and deferred delivery charges are likely to be.
How can I keep packing within the budget?
Try to find cheap alternatives to packing paper. Clothes, sheets, old newspaper, plastic rolls, towels – use everything that fits.
How can I make my move cheaper?
If you are moving interstate, you will be charged by weight. Cut down on excesses and eliminate useless stuff. Lighter boxes attract lower charges.
How can I reduce wastage due to moving?
Ask your mover if they reuse or repurpose boxes for moving. Your local U-Haul centre can provide you with
free used boxes
to reduce wastage.
How long will it take to get my items delivered?
Your mover should be able to give you an approximate date and time of delivery. However, road conditions and other unforeseen factors may push back arrival. Stay in constant touch with your mover throughout the transit.
How soon will movers finish loading the truck?
It depends on the number of movers, the quantity of boxes and the area of the house. On an average, 3 movers will take almost the whole day to clean out a 2000 sq ft house. If more movers work together, you can expect roughly eight to ten hours.
Is it better to move on weekends or weekdays?
Odd days may make it easier to find more movers at lower costs. Wednesday, for example, is a better moving day than Saturday.
Is winter a good time to move?
If you are moving in winter, experts say that you keep indoor heat setting on low. Before the stuff arrives at your new home, it is a good idea to keep the HVAC system turned on. This way you can quickly move indoors and have a ready supply of warm water.
My new home is not ready. Will movers deliver my things to a temporary storage if I can arrange for it?
It varies. However, there is an increasing tendency of most movers to agree with the arrangement. This is quite beneficial since you can both access your stuff and pay less. Once your new destination is operational, you can connect with local movers to deliver to boxes to your new destination.
Temporary moving storage
is an attractive option – easy and affordable.
What do moving brokers do?
Moving brokers connect customers and moving companies. They may assist you in move estimation, find out the best mover for your needs and even get you a discount or flat rates. Brokers make the moving process easier. Finding and arranging a move on your own could be more expensive than when you do it through a broker. Just make sure your mover is properly licensed and that they have agreed to move for you.
What extra charges can I be billed for beside the moving cost?
It is a good idea to ask your estimator if they charge extra for fuel or parking. They might also have charges for going up and down the stairs at your residence or the delivery address.
What if my goods are going to storage, but I need a few items at destination for temporary housing?
Ward will gladly coordinate delivery to separate locations. It's best to determine what items you want delivered to temporary housing before your shipment is packed and loaded. This will assure items are inventoried for delivery to the correct location.
What if my new house doesn't have parking or the street is too narrow for the truck?
Inform your mover of the condition of the delivery location. Be specific about closed roads or restrictions, traffic and obstacles. Some movers do charge customers for every extra foot they cover to deliver your items.
What is the best time to notify an address change?
To avoid last-minute confusions, experts suggest notifying an address change at least a couple of weeks before the move date. Apart from family and friends, your doctor and dentist, your bank and insurance firm and schools need to be informed of this update.
What is the ideal moving date?
Assuming there is no rush, you may plan your move to coincide with school holidays. Summer is usually the peak season and the beginning and ending of the months see a high volume of moves. Winter and fall are the lean move seasons to consider. Additionally, movers are more easily available mid-month and the charges are lower.
What is the moving cost for local, across-the-town moves?
Local movers usually offer an hourly rate that covers labor, truck and packaging. However, many local movers will need to be booked for at least two or four hours for moving across the city.
What time is the best to move to keep moving costs down?
Summers see a steep rise in moves. Try to avoid June, July and August since companies struggle to fulfill orders and charges are high. A good time to move would be weekdays covering the middle of the month.
Where can I get help for smaller and shorter moves?
You may consider hiring additional help for a few hours. Online sites and apps like
Taskrabbit
and