Office and Commercial Moving Services
Are you planning to relocate your organization? Trust the commercial movers known for full-service strength! Ward North American is the commercial services company that makes moving more manageable for offices, hotels, hospitals, schools and more. Whether you're moving your operations within your town or across the country, we provide best-in-class commercial moving services.
We can move specialty goods, medical equipment and whatever business furnishings and equipment you need to bring with you. Our professionals know how to disassemble and reassemble all types of office, business and commercial furniture. We even offer warehousing for products and equipment when you're between locations and need temporary storage space.
Whether your business is small or large, simple or complex, you can trust us to provide the best commercial moving services services available anywhere!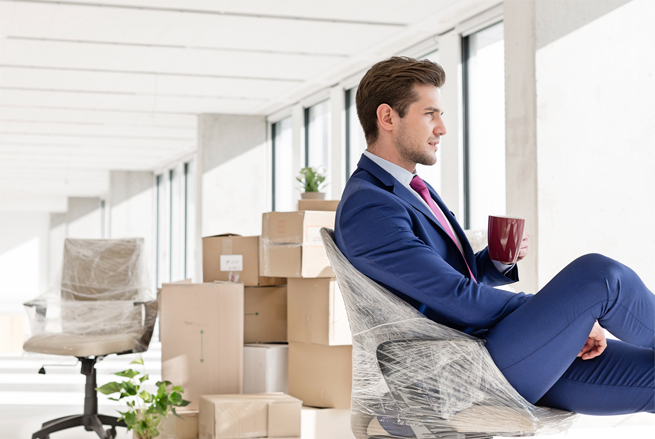 SUPERIOR PROJECT MANAGEMENT
Ward provides a sequenced transition, coordinating the entire moving process for businesses of all sizes. Whether you need to move a couple of offices or a multi-phase hospital installation, we're ready to handle the job from start to finish. Our superior project management ensures that no detail falls through the cracks, making a successful move.
The best at best practices!
As confident as we are that you'll love moving with us, we know you want to be able to move onto other projects fast. That's why we put effective project planning and cost-containment best practices to work, reducing downtime and getting you closer to a job well done.

MOVING SOLUTIONS FOR BUSINESS
No matter what you need to relocate — hotel, hospital, school or warehouse — having the right methods in place are key for a smooth transition. The commercial furniture movers at Ward North American take into account every detail of your project to effectively maintain control and keep track of your assets.
Our WARD Smart Tracker warehouse inventory and management system can provide you with secure and private reports specific to your projects, including status updates on shipments and real-time status updates of inventory. This way, all parties are always informed and up to date throughout the process.

WAREHOUSING AND DISTRIBUTION
At Ward North American, our clean and secure warehousing facilities are designed and equipped specifically to support efficient and controlled receiving, storage and final distribution of furniture, fixtures, medical equipment, electronics and product. Rest easy, knowing your equipment or products are in safe facilities with electronic tracking, camera surveillance and security round the clock.

RELIABLE COMMERCIAL MOVING SERVICES
Our diverse experience with big projects, ranging from hospitals to educative institutions, ensures we have the expertise to efficiently service your business move, minimizing disruptions and down time for your operations. With Ward North American on your team, you know your move will be smoother and simpler than it could have been — so you are free to get back to business as usual as quickly as possible.

Get your free quote today!