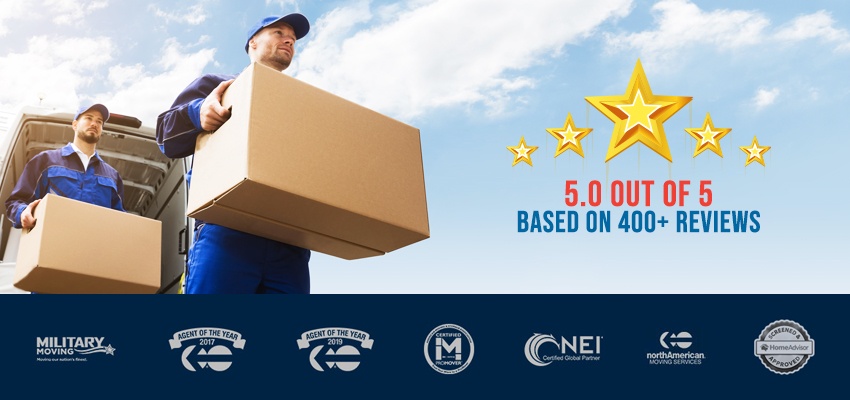 Welcome to Ward North American, a leader among Garland moving companies. When you work with our full-service movers in Garland, TX, you'll enjoy a seamless, hassle-free relocation to anywhere in the world. Our company has more than 30 years of experience relocating businesses, families and high-value items, both domestically and internationally. We can move your belongings across an ocean just as carefully as we can relocate them across town. Our comprehensive services are competitively priced, so your move will accommodate your needs while also fitting within your budget. Getting you resettled as quickly and smoothly as possible is our first priority. We care so much, it's moving.
Contact us today to discuss your upcoming move. One of our friendly professionals will be happy to explain our services and relocation capabilities. Request your free in-home moving estimate right now by completing our online quote form
The Best Choice Among Garland Moving Companies
Whether you're moving to different part of town, to another state or out of the country, Ward North American has the professional movers in Garland, TX, you can trust. Learn more about our specific services below.
Moving Services
Residential Moving
Changing homes? Let Ward North American transport your household goods anywhere in the world with a focus on safety and cost-efficiency. Our experts understand that we're not just moving things, we're moving lives. Trust us to make your move smooth and stress-free from beginning to end.
Commercial Moving
Transitioning your office from one location to another doesn't have to be chaotic. Come to Ward North American for superior project management, exceptional transition solutions, clean and secure warehousing, and efficient moving services. You can choose from our wide range of commercial moving services for jobs big and small. We're always available to help, whether you're relocating a business, hotel or university — or just require a rigging service.
Specialized Moving
For antiques, medical equipment, trade show displays and other specialty items that require extra care, talk to us about our specialized moving services. We'll transport your high-value items with care and consideration, and you'll enjoy total peace of mind knowing your irreplaceable goods will arrive securely and on time.
Storage
When you need to store your household goods or commercial products, we offer immaculate warehouses with 260,000 square feet of storage space. We use precise electronic tracking, so it's quick and easy to locate your belongings whenever you need them.
Corporate Relocation
Relocate your employees and their families with the Move Management services that businesses and employees rely on for seamless and cost-effective relocations. Our personnel are here to shoulder the burden for you, so transitioning to a new location is as painless as possible.
International Moving
Move overseas with Ward North American and our global network of resources, which includes a presence in more than 175 countries. We offer full-service packing, custom crating, vehicle shipping, customs clearance and more to make your international relocation successful.
Learn more about the high-quality, cost-effective services we provide as a Garland moving company. Contact us today and one of our knowledgeable professionals will be happy to discuss your upcoming relocation and/or storage needs. Or get your move started today with the premier Garland, TX, mover. Request your FREE in-home estimate by completing our quick and easy online quote form!
Services Areas Around Garland / Ft Worth
And Many More….Call for Details
Contact Us Today!