Pool Table Moving And Storage
Pool tables are extremely heavy but surprisingly delicate, difficult to take apart, and even harder to put together level and ready to play. Instead of taking on the challenging and time-consuming job of moving them yourself, hire the services of a pool table moving expert like Ward North American.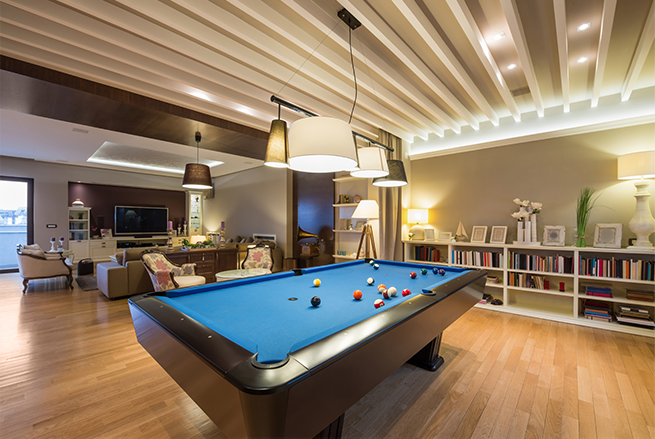 PROFESSIONAL-STRENGTH POOL TABLE MOVERS IN TEXAS
Pool table moving services like those here at Ward North American don't just use a few warm bodies to hoist your 700-pound table onto and off a truck. Instead, our professionals assist with every step of safely transporting your pool table to its new location:
Careful disassembly of the table (and labeling of all the parts)
Padding of your floors and walls to prevent damage while moving the pool table pieces
Careful handling of every part of your pool table
Reassembly and leveling of the table at your new location
Every one of the movers we send to relocate your pool table is highly-trained through Ward University and is also a skilled billiard installer who can handle your prized possession with the knowledge and care it deserves.
You will also enjoy access to a dedicated move coordinator who understands the complexities of relocating delicate or heavy equipment like pool tables. This professional will assist you with every detail of your move, from initial planning to safe delivery and installation–one point of contact for your every moving need.
SPECIALIZED TOOLS FOR MOVING POOL TABLES
Our skilled moving technicians and move coordinator will utilize specialized tools for safely moving your pool table, from the correct tools to disassemble and assemble your table to our fleet of the state-of-the-art moving vehicles.
Our fleet is equipped to handle special items like your pool table, and every vehicle includes the following.
Flat Floor
Air Ride Suspension Trailers
Lift Gates
Climate Control and Generators
Antistatic padding
In addition, your pool table will be in good hands on the drive to your new place thanks to our highly-skilled drivers who have decades of experience safely transporting the most valuable loads.
Why Choose Ward North American
For over 40 years, Ward North American has been the mover of choices for clients who need to relocate their pool tables (and other specialty items).
Our comprehensive and attentive pool table moving services can handle the following:
Moves anywhere in the world (or even just down the street)
Tight deadlines
Last-minute requests
Pool tables of any kind
Comprehensive moves or single tables
Special requests
And more
Don't just hire any mover to relocate your pool table. Use Ward North American's team of expert movers, skilled drivers, dedicated project managers and flawless track record to ensure a streamlined and stress-free move.
We look forward to helping you! Contact us today, and fill out our quick and easy form to get a free estimate for your next move!
Contact Ward North American, your Texas movers of choice. We look forward to discussing your upcoming relocation and/or storage needs with you. Request your free estimate right now by filling out our quick and easy quote form.

Get your free quote today!