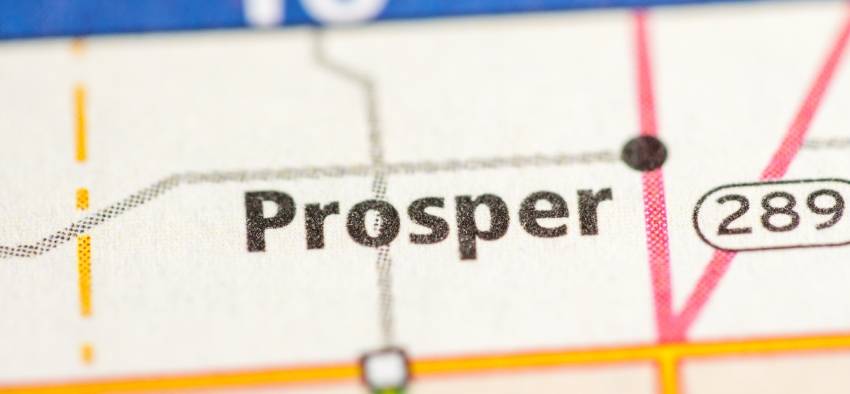 As its name implies, Prosper, Texas, is one of the most prosperous, beautiful, and desirable locations in the state. Located as a suburb within the Dallas-Fort Worth area, and spanning both Collin and Denton counties, Prosper's population of about 31,000 has more than tripled in the last decade. Its popularity is driven by its excellence in safety, schools, beauty, and real estate. Prosper truly is a place where you can thrive.
Prosper is one of the safest places in Texas
A sense of safety makes your neighborhood feel more welcoming, more relaxing, and more rewarding. Living in Prosper, TX, means you can enjoy that sense of security throughout every part of your daily life.
Prosper's crime statistics are a fraction of the national average in every category, from assault and murder to burglary and theft. The city's crime rate is also 60 percent lower than the crime rate in the rest of Texas. That places the city in the 70th percentile for safety, meaning that it is safer than 70 percent of cities in the United States.
With vanishingly small rates of crime and a reputation for security, Prosper promises you a life where you can shop, learn, work, play, and relax with confidence.
Prosper schools are exceptional educational choices
If you are seeking an education for yourself or looking for a place to raise a family, living in Prosper gives you access to some of the state's leading educational institutions.
In particular, the city's elementary and high schools across Prosper Independent School District and Denton Independent School District have a stellar reputation. The city is 21st out of 701 Texas locations with the best public schools.
Three of Prosper's public schools possess an A+ rating, with some of the area's best schools being Cockrell Elementary School, Reynolds Middle School, and Prosper High School. If you are seeking higher education, the University of Texas at Dallas is only about 30 minutes away.
Prosper real estate is expensive, but luxurious
One potential difficulty of living in Prosper is affording a home in the area. Because the city boasts excellent safety and educational opportunities, real estate here is in high demand. The median home price in the city is a whopping $650,000, making homes here almost $400,000 more expensive than the median home price for the state as a whole.
The good news is that these houses, in addition to being in one of the state's most desirable locations, are generally spacious, beautiful, and situated on large plots of land. Almost 88 percent of the city's homes are single-family detached houses, and many of them sit on multiple acres of land with 3,000-4,000 square feet of space.
Large homes, lots of land, and a peaceful community — No wonder living in Prosper, TX, is the goal of so many Texan families.
Prosper is conveniently located to big-city amenities
Prosper itself is a smaller community with a distinctly affluent, suburban feel. However, residents can still enjoy all the good things a big city holds, thanks to its location just 45 minutes from Dallas and just an hour from Fort Worth.
Take a short drive to reach the Dallas airport, for example. Find a job in a lucrative industry and live in a beautiful suburb while enjoying a reasonable commute. Take the family to enjoy museums and performances, shop, or access cutting-edge healthcare. You can easily reach it all without giving up your quiet, beautiful suburban life.
Outdoor enjoyment is within reach in Prosper
Living in Prosper, TX, is also one of the best ways to enjoy the outdoors. The city is home to several playgrounds, if you want a place for your children to play. These include Erwin Park, Old Celina Park, and Silo Park.
For outdoor activities that adults can enjoy too, you can embrace Frontier Park's pavilions, fishing, baseball fields, and more. Take a walk or ride your bike in Cedar Grove Park, or take time to enjoy golf at Gentle Creek Golf Club. The options are numerous right here in Prosper.
Prosper, TX, is a beautiful, safe, and tranquil place to live. Embrace the safety, educational excellence, convenient big-city amenities, and outdoor fun that are available in this most desirable of Texan suburbs.
Here at Ward North American, we stand ready to help you successfully make your move to Prosper. Our professional, careful, and comprehensive moving services will give you the moving experience and and stress-free start to Prosper life that you deserve.