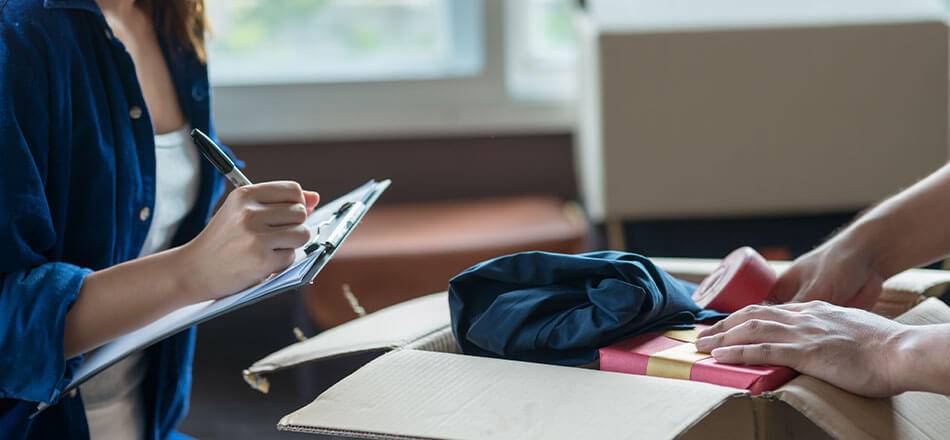 Moving into a new home requires a lot of coordination and cooperation for everything to go smoothly. Although you may know what you need to do, you might not know when you need to do it.
You don't want to be left scrambling at the last minute to finish all of the details that can distract you from the bigger tasks such as loading the truck. On the other hand, you don't want to do certain tasks too early and leave yourself without cable or Internet for the last few months in your current home.
Yet there's so much that has to get done before you move that it can be difficult to know when to do it all. That's where having a moving and packing checklist to serve as a moving timeline can be a significant advantage as you plan your move.
Here's a quick breakdown:
Six Weeks Before
☑ Decide how you'll move
Determine whether you'll do everything yourself or with friends and family helping you. Or, if you'll hire professionals to coordinate your move.
☑ Start researching moving companies
If you choose to hire professional movers, it's a good idea to start researching them early and try to book one as soon as you can to help you stay on schedule. Check out our Top 10 Questions to ask a moving company before hiring them.
☑ Clean out your junk
Now's a good time to lighten your load by selling or donating the objects you won't be needing in your new home. Go through your belongings and put anything you don't want to bring with you to the side to make it easier.
One Month Before
☑ Start spreading the news
A month before your move, start notifying the utilities, your bank, your insurance provider and/or anyone else who needs to know about your move. Be sure to give your new address to anyone who needs to send you important documents.
☑ Collect boxes
Anyone who has moved knows how important moving boxes are. Start collecting them about a month before your move so you'll not only have enough, but you'll also have enough time to pack.
☑ Think about any new furniture you'll need
If you're in need of new furniture at your new place, now's a good time to start buying it and arranging for it to be delivered to your new address after you move. This can be helpful if you're moving far away and don't want to lug a lot of heavy furniture across the country.
Three Weeks Before
☑ Start packing
Start by packing the items you know you won't need right away, such as any out-of-season clothing, books or collectables. Be sure to leave the essentials (toothbrush, coffeemaker, toilet paper, medications, etc.) for last. Put them all into one box so you won't have to waste time digging them out after you arrive. Consider buying padlocks or renting safety deposit boxes or similar to keep your valuables safe.
☑ Rent your truck
If you've decided to move without help, three weeks before the move is when you should rent your truck, if you need one. Be sure to get quotes from multiple providers to get the best deal.
One Week Before
☑ Clean your old place
Giving your old place a thorough cleanup isn't just considerate for the new residents — it can help ensure you don't lose your cleaning deposit if you're renting. If you've already packed most of your belongings, it will be a lot easier to clean.
☑ Clean your new place
On the other hand, it also will be easier to give your new place a complete cleaning before you move all your belongings into it. If at all possible, go to the new place before you move and make sure everything's clean.
Moving Day
☑ Enjoy the experience
If you've hired professional movers, you shouldn't have to do anything but watch them work, as long as you've done everything else ahead of time. If you're handling the move yourself, you shouldn't need to worry about anything except loading the truck, driving to your new place and unloading. Everything else should be taken care of already.
Moving into a new home is a big operation, but as long as you break it down into smaller tasks and schedule them appropriately, it should be a lot more manageable. If you're preparing to relocate in the near future, be sure to follow this moving timeline checklist.