This is the 11th Time that Ward has Received Van Line's Top Honor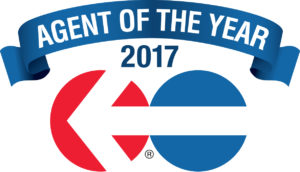 CHICAGO (November 14, 2017) — North American Van Lines, Inc., one of the world's largest moving companies, recognized Ward North American of San Antonio, Texas as 2017 Agent of the Year. This represents the 11th time that Ward North American has been awarded the van line's top agent honor.
"northAmerican pursues excellence by assuring superior customer service and quality performance," said Andy Kroll, VP and General Manager of North American Van Lines, Inc. "Each year, we select one agent that embodies this pursuit and passion for excellence. Our winner this year, Ward North American, is clearly a role model for our entire network. And after winning this honor 11 times, Ward is surely a role model for the entire industry as well."
"To me, winning the 'Agent of the Year' award from northAmerican compares to winning a championship," says Kevin Ankenbauer, President of Ward North American. "It takes a passion to win and a disciplined culture of caring for our customers and our co-workers to achieve results deserving of this recognition. I am extremely proud of our team of employees and drivers for achieving and maintaining such a high standard within our network of agents!"
Adds Ankenbauer, "Winning this award numerous times over our company's history validates our consistent execution of service delivery, and gives me confidence that the Ward North American brand will endure for many years to come."
The northAmerican Van Lines Agent of the Year award recognizes the agent that attains the best overall scores in categories including service quality, hauling growth, sales growth, safety performance, and demonstrates the "Power of Blue" in supporting their fellow agents and customers. The agent must also demonstrate a significant increase in total number of moves and total (hauling and booking) revenue for the year.
About Ward North American
Ward North American is a nationally recognized provider of household goods moving and storage services. Through unparalleled hiring practices, training processes and quality assurance measures, Ward North American strives to redefine the industry with every move. Ward North American has proudly represented northAmerican Van Lines for 40 years. Headquartered in San Antonio, Texas, Ward North American operates from five locations in Texas and one in Arizona. Ward North American employs a staff of nearly 600 and operates a dedicated national fleet of over 100 drivers. Find out more at www.wardnorthamerican.com.
About North American Van Lines, Inc.
North American Van Lines, Inc., established in 1933, is a wholly owned subsidiary of SIRVA Inc., a leader in providing relocation solutions to a well-established and diverse customer base around the world. The moving company, with headquarters in Fort Wayne, Indiana, and more than 500 agents worldwide, handles corporate, government, military and private relocations, and operates in the U.S., Canada and more than 100 countries worldwide. Information on North American Van Lines (U.S. DOT No. 070851) can be found on the Internet at www.northamerican.com.