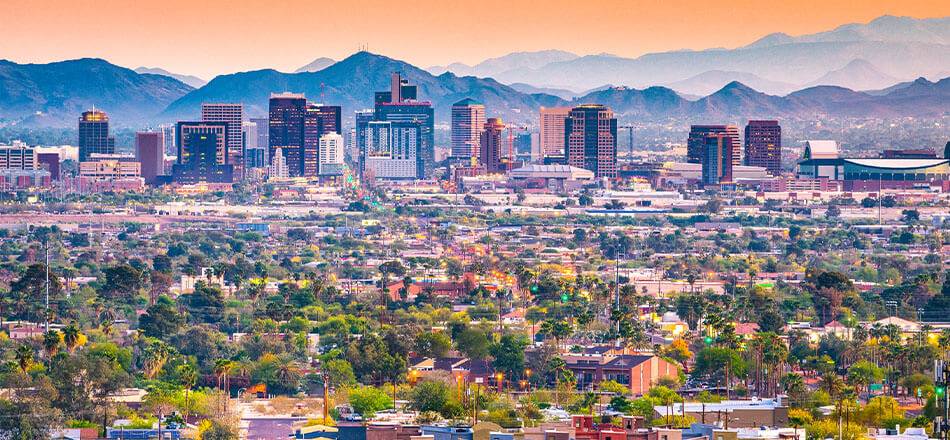 Are you ready to move to a city that has it all — perennial pleasure, beautiful weather and a healthy economy to boot? If so, Phoenix is perfect for you. As one of the top 10 most populous cities in the United States, Phoenix offers more ways to achieve the lifestyle you want. If you're wondering, "What is it like to live in Phoenix?" — let's explore what the city has to offer.
Culture
Phoenix is Arizona's capital, and it's the fifth largest city in the U.S with a population of more than 1.6 million (and growing!). Its history stretches back to 300 A.D., when Hohokam Native Americans first settled in the area. Now, Phoenix is home to a diverse population. While English is prevalent, you may hear Navajo, Cantonese, German or one of 100-plus other languages spoken in the city.
Why do people move to Phoenix? The city boasts 300 days of sunshine throughout the year. With all that sun, you'll want to get out and enjoy what Phoenix has to offer.
Leisure Time
The Phoenix lifestyle includes a healthy dose of recreation. Between the food, sports and ways to relax, there's something for everyone here.
Food — Big cities tend to have great food scenes, and Phoenix is no exception. You'll never run out of tacos (authentic ones at that) to try, and there's a large variety of upscale and affordable restaurants from which to choose. There are many farmers markets to peruse and independent grocery stores to shop, such as Trader Joe's and Bashas'. Phoenix makes it easy to be indulgent and health-conscious all at once.
Sports — With more than 200 verdant golf courses, Phoenix is hailed as one of the world's top destinations for the historic sport. Is adrenaline more your thing? Phoenix has you covered. Try your hands at rock climbing or bike your way through the surrounding mountainous terrain. If spectating is more your style, you're in luck. Phoenix has the Arizona Diamondbacks (MLB), Phoenix Coyotes (NHL), Arizona Cardinals (NFL) and Phoenix Suns (NBA). You'll have a chance to root for someone all year.
Relaxation — Day or night, there are a plethora of ways to wind down. Check out Phoenix's thriving nightlife of dive bars, clubs and high-end lounges. Looking for a more cultured approach? Ak-Chin Pavilion has some great outdoor performances, while Arizona Opera caters to the opera clientele. Ballet, theater and symphony are other great options, but at day's end maybe all you'll want is to laze about. You can opt for a staycation alongside the tourists and treat yourself to one of the many spas and resorts Phoenix has to offer.
Economy
Let's get down to the nitty-gritty … economy and cost of living. The good news is there's not a lot of grit when it comes to affording Phoenix.
Jobs — One of the benefits of living in Phoenix is the variety of job opportunities; a lot of people are already flocking to its burgeoning industrial market. There are plenty of startup companies and a handful of Fortune 500 companies headquartered in the city. The average salary in Phoenix is $56,445, while cost of living is slightly lower than the national average.
Housing — Housing in Phoenix is cheaper than a lot of big cities. If you're planning to rent, you can expect to pay around $1,000 per month for a three-bedroom apartment. If you're looking to own, $300,000 for a standard three-bed, two-bath home is an average price. In comparison, Los Angeles and New York are generally 100% and 200% more expensive, respectively, than Phoenix.
If you're planning on relocating to Phoenix, Ward North American can help take the stress out of your relocation and make the process as painless as possible. Contact us for a free quote today!