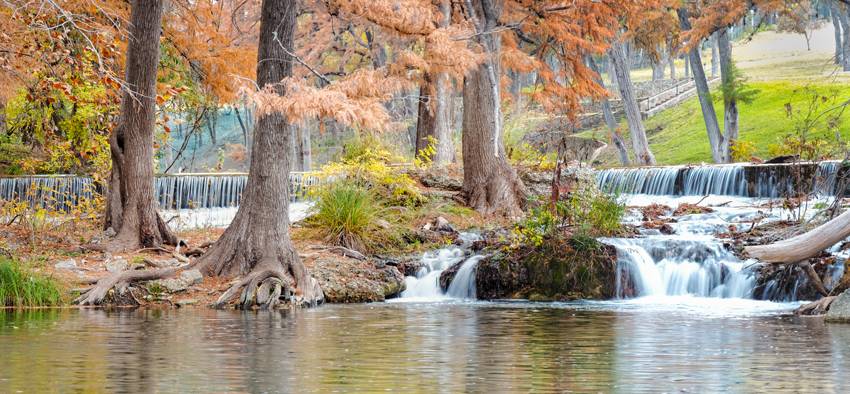 Located west of Austin and north of San Antonio, Kerrville, TX, is the proud and peaceful heart of the Texas Hill Country. The Guadalupe River runs through the center of this city of approximately 23,000, making this seat of Kerr County ripe with natural beauty and outdoor activities. Living here means enjoying some of the state's most unique and restorative environments, within a community devoted to Texas and to each other.
Kerrville is full of natural beauty
Talk to any of Kerrville's residents, and you will hear about the natural beauty that dominates every inch of this Texan city. Anchored by the Guadalupe River, which runs through the downtown area, and supported by the breezes and cooler temperatures that come from this city's northern location, this natural beauty gives rise to multiple walking trails and parks for residents and visitors alike to enjoy.
Walk along the cypress-lined Guadalupe River at the Kerrville River Trail. Enjoy camping, biking, hiking, fishing, and more at Kerrville-Schreiner Park. Check out the playground, fountain, and trails at the riverside Louise Hays Park. Outdoor relaxation is easy to find among Kerrville's appealing natural surroundings.
Kerrville is a peaceful city
In addition to its natural beauty, Kerrville is also known for its peaceful environment. Despite being the county seat, Kerrville has a small population and is at least an hour away from big-city environs.
Surrounded by trees, hills, and of course the river, Kerrville and its residents adopt a laid back lifestyle full of quiet enjoyment of life. You will also find that Kerrville is free of many of the touristy vibes that other beautiful, historic Texan cities have. That gives the city a more genuine and hometown feel that many residents find extremely appealing.
This peaceful life translates into a safe community with a violent crime rate below the national average. Here, people generally know each other and you can expect a warm welcome and kindness, even from strangers. This small-town community lends itself to a life of security and satisfaction.
Kerrville has a large retirement population
Thanks to its pretty scenery and warm climate, Kerrville has become a retirement destination. About 27 percent of residents are of retirement age, and the city was listed by Retirement Watch USA as one of the top 10 places in the country to retire.
As a result, expect access to good medical care with broad acceptance of Medicaid and Medicare plans, lots of golf courses, and an older, wiser population who contributes to the area's quiet, safe, and welcoming feel.
Kerrville embraces its rugged Texan history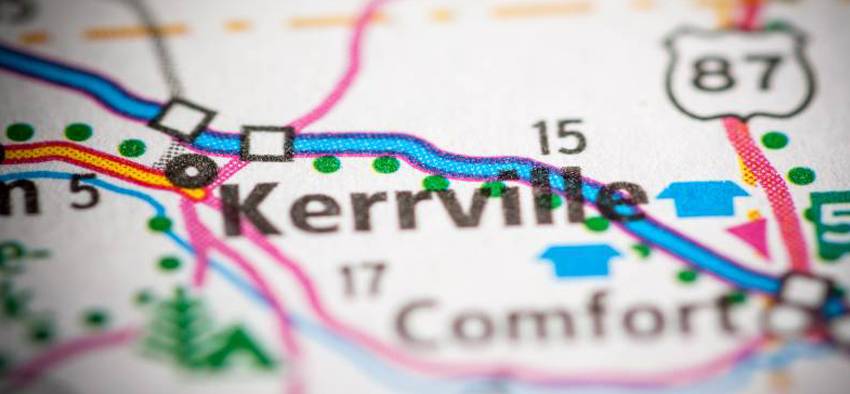 Kerrville was founded as a center of shingle-making, but quickly began to enjoy prosperity in industrial pursuits, business, freight, and other pursuits.
Its success, despite its small size, has given the city a confidence and a pride in its rugged Texan history that permeates many of the city's attractions and cultural pursuits.
For example, check out the Museum of Western Art, formerly known as the Cowboy Artist of America Museum. This museum showcases art that preserves and celebrates the Western lifestyle. Take in the sight of statues throughout the grounds. Enjoy galleries of artwork, and bring your children to the wagon trail-inspired Children's Gallery.
You can also stop by Billy's Western Wear shop for authentic Western clothing, or enjoy the Kerr Arts and Cultural Center with its focus on community art. Whatever you choose, delving into very Texan art and history is an exciting part of living in Kerrville.
Festival Focus
Despite its quiet atmosphere, Kerrville likes to have fun. The city is known for its multiple annual festivals focusing on everything from renaissance themes to arts and crafts, folk themes, furniture making, and more.
If you want to live in Kerrville, you can expect to enjoy any of the following festivals throughout the year:
Nationally-renowned Kerrville Folk Festival
Kerrville Fall Music Festival
County Fair
The Texas Furniture Makers' Show
The Kerrville Renaissance Festival
And more
These festivals give you a good opportunity to connect with neighbors, celebrate your interests, and have fun in your Texas home.
If life in Kerrville appeals to you, contact the movers who have years of experience moving clients all over the world, and all over Texas. We can make your Kerrville move stress-free, fast, and easy. Contact Ward North American today!