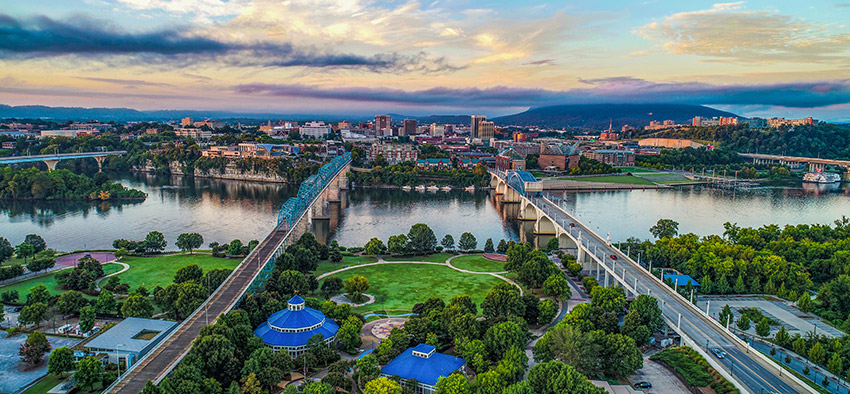 Tennessee is drawing Texans to the state by the tens of thousands. In 2019, more people moved from TX to TN than from any other state except for Florida, with 15,068 Texans making the move. If you are considering your own TX – TN move, part of your preparation should be learning the differences between your home state and your adopted state. Here are 10 of the most important things you should know before moving from Texas to California.
Moving Costs TX to TN
Moving from Texas to Tennessee can be an exciting time, but overspending on your moving budget definitely won't be. That is why Ward North American provides you with a reliable, accurate, and comprehensive quote for your moving services. Check out the average costs of moving with us, and then call us for a free quote tailored to your moving plans.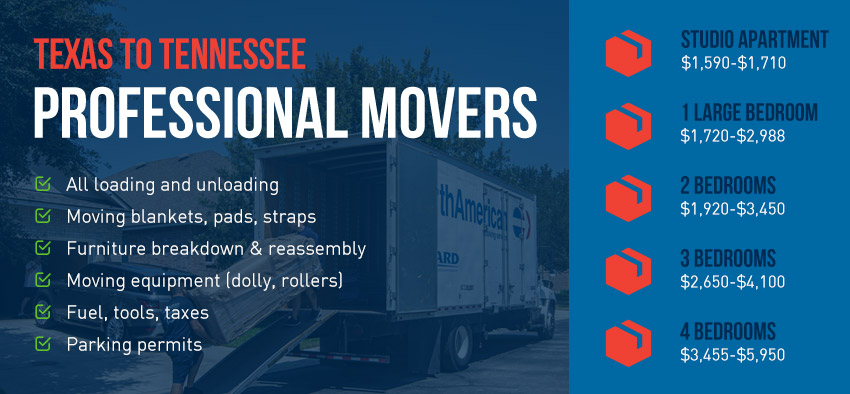 | | | | | | | |
| --- | --- | --- | --- | --- | --- | --- |
| FROM | TO | Studio Apartment | 1 Large Bedroom | 2 Bedrooms | 3 Bedrooms | 4 Bedrooms |
| TX | TN | $1,590-$1,710 | $1,720-$2,988 | $1,920-$3,450 | $2,650-$4,100 | $3,455-$5,950 |
Lower Taxes
Texas is known for its affordable tax burden: The state has a total tax burden of just 8.22 percent this year, which makes it 18th in the nation. However, Tennessee's tax burden is even lower, at just 5.75 percent, which makes it 2nd in the nation in tax affordability. Tennessee also has a lower property tax burden than Texas, at 1.71 percent compared to Texas' 3.97 percent. The result? You can plan to keep more of your paycheck when you relocate from Texas to Tennessee.
Lower Safety Rankings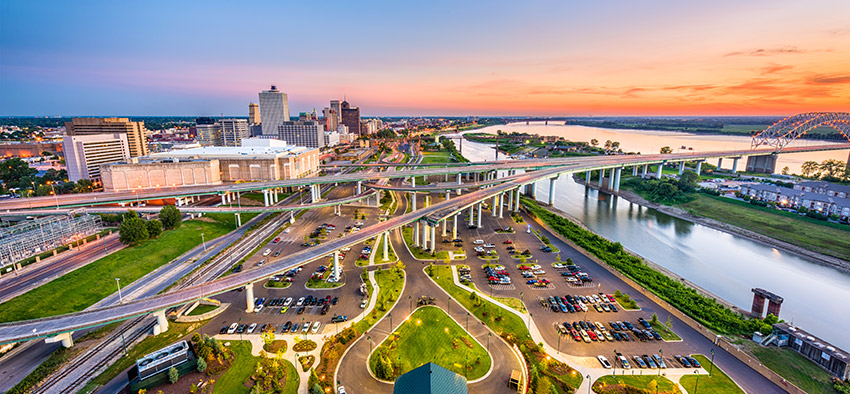 Everyone wants to, and deserves to, feel safe in their home. The good news is that both Texas and Tennessee offer an abundance of peaceful and safe locations to enjoy life. When comparing the two states, however, Texas comes out on top. Ranked 37th in the nation overall for safety, it has a better property crime and violent crime rate than Tennessee, which ranks 45th in the nation for safety.
| | | | |
| --- | --- | --- | --- |
| RANK | STATE | LOW PROPERTY CRIME RATE | LOW VIOLENT CRIME RATE |
| 37 | Texas | 36 | 35 |
| 45 | Tennessee | 40 | 48 |
Before you cancel your move from Texas to Tennessee, however, remember that the state is more than 42,000 square miles in size, and that finding a location as safe as your home in Texas is simply a matter of doing your research.
Different Sports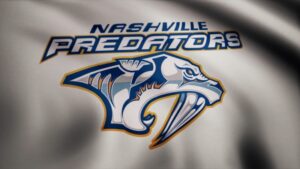 If you have lived in Texas for any length of time, you know that Texas sports are big, and Texas fans are committed to their teams. If you are moving from Texas to Tennessee, you will need to prepare yourself for a different sports environment. Say goodbye to the abundant professional sports teams in Texas (Go Cowboys, Texans, Astros, and Rangers!). Instead, say hello to the Texas Titans, Nashville Predators, and Memphis Grizzlies.
And don't be surprised if the sports scene is a little less intense than what you are used to in Texas: Fans love their teams in TN, but their passion does not always rise to the level that Texans have (Because everything is bigger in Texas).
Lenient Gun Regulations
Tennessee has relaxed gun regulations that should make it easy to move your guns from Texas to Tennessee when you relocate. Here are the basics of Tennessee law that may apply to your gun carrying habits:
You do not need to register your firearm in Tennessee.
Most people above the age of 21 do not need a permit to carry concealed or openly.
Exceptions to permitless carry do apply, so check  with the TN Department of Safety and Homeland Security.
Tennessee has a reciprocity agreement with Texas to recognize Texas gun permits.
Tennessee's support of 2nd Amendment rights is also one of the reasons that Smith & Wesson has recently moved its operations to Tennessee. Other factors influencing their decision? A better quality of life for employees, business friendly environment, and an ideal location for distribution. Relaxed gun laws and a vibrant economy are making Tennessee stand out.
Strong Educational Opportunities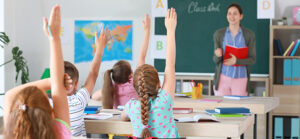 When it comes to education, Texas and Tennessee are about equally ranked: Texas ranks 31st and Tennessee ranks 29th in the nation. However, Tennessee has some strong educational positives going for it that will make a move here from Texas a boon for your children (Or for you!). For example, Tennessee offers 2 years of community or technical college tuition-free for every high school graduate, and the state has been in the top 25 in the nation for their students' math and science performances. It is safe to say that you or your child's education is secure when you move to Tennessee, just make sure to choose a school district or institution of higher education that is as well-ranked as the state as a whole.
Conservative Politics
Texas is known for its bright red political climate, but what you may not know is that Tennessee is similarly Republican in its leanings. In Texas, 52 percent of residents voted Republican in the last election, while 60.7 percent did the same in Tennessee. As a result, you can expect much of the same policy leanings, though you can find more progressive leanings in cities such as Memphis, Arlington, and Bartlett.
Tennessee's conservative atmosphere (And low taxes) was one reason conservative Ben Shapiro, founder and editor of The Daily Wire, runs his business out of Tennessee despite living in Florida.
Driver's License
When you move from Texas to Tennessee, you will need to switch your driver's license as well. The process is straightforward, and you have 30 days to do so, allowing you to get settled and find your paperwork before making the switch. Here is the paperwork you should gather:
Your out-of-state license
Proof of citizenship or lawful presence in the U.S.
Name change documents, if applicable
Two documents proving TN residency
Full Social Security number
You will also need to take a vision test, and you may need to take additional tests if your current license is expired.
Graceland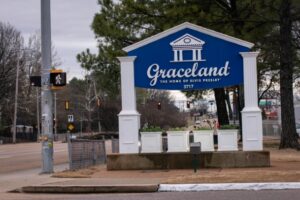 If there is any location you have to visit when you relocate to Tennessee, it is Graceland. The home of the famed Elvis Presley, this is an iconic part of Tennessee culture. Explore house and grounds, see Elvis' planes and jumpsuits, visit his burial site, enjoy incredible food, and even visit the site's new music venue. If you live in Tennessee, Graceland will give you enough to do to keep you busy throughout many visits over the years.
Incredible Music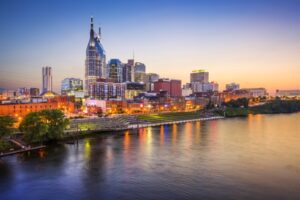 If there is one thing that Tennessee is known for, it is music. Elvis Presley, of course, is a towering presence in the state, but you can find a wide array of incredible music in this incredible state. Nashville is the undisputed home of country music, while Memphis has roots in the blues genre, and Elvis made rock n' roll synonymous with the state. When you move to Tennessee from Texas, you can expect an endless array of great music, historic musical sites, and performances to delight you, no matter what type of music you love.
Mountains and Hills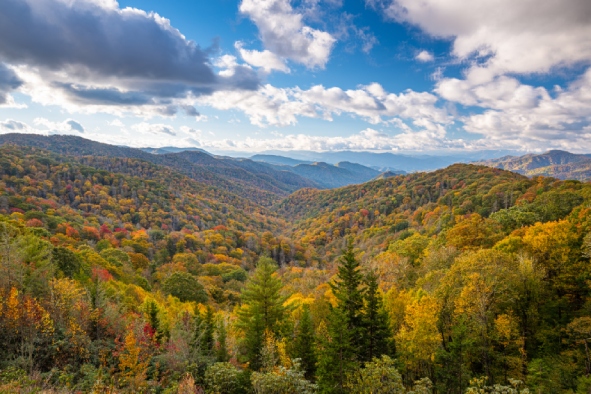 The Great Smoky Mountains National Park resides partially in Tennessee, as do a large portion of the mountains themselves (The rest are in North Carolina). This famous, and large, park offers an unforgettable opportunity to take in breathtaking sites, enjoy long drives and hikes, fishing, and even access to historic sites.
Alongside the mountains, in the northeast portion of the state, are the Tennessee hills. These rolling hills are a beautiful part of Tennessee's natural geography. This beauty will always be easily accessible as long as you reside in this beautiful state.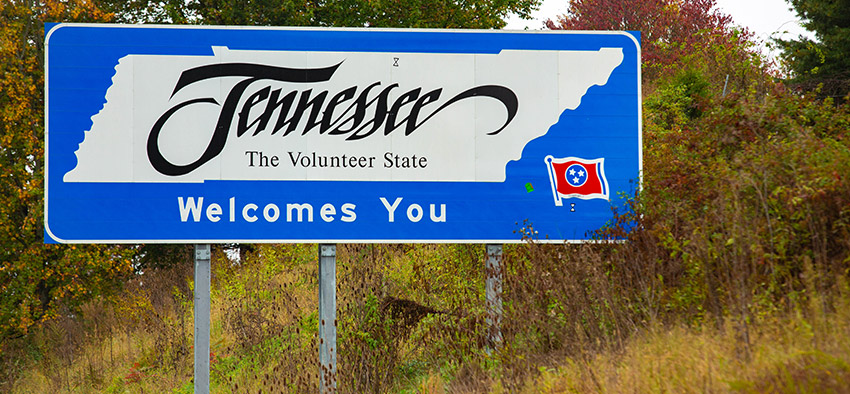 Moving from Texas to Tennessee can be an exciting time in your life. Just make sure your move is as routine and stress-free as possible by hiring the Ward North American movers who provide professional-strength care to your move, regardless of where you are going.