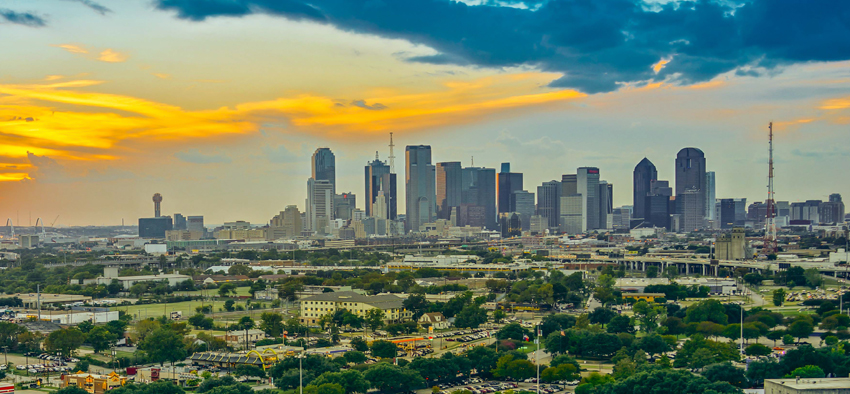 Thinking about moving to Dallas? You aren't alone. The Dallas-Fort Worth (DFW) area has welcomed 1 million new residents in the last 10 years, and is the fourth-largest metropolitan area in the nation.
There is good reason for all this growth: Dallas is an exciting and affordable place to live and work. We have listed 10 reasons to make the transition to DFW, but there are many more. Come discover some of them for yourself!
Central Location
Texas is a big state, and the United States is a big country, but in Dallas, you have easy access to anywhere. Fly directly from the DFW airport to almost any major city in the nation in four hours or less, and reach some of the biggest destinations in the world, including London, Frankfurt, and even Sydney, Australia, without needing a layover.
If you want to stay in Texas and explore some of the state's exciting cities and towns, you can easily make a day trip out of it when you leave from Dallas. The city is less than five hours from major cities, such as San Antonio and Houston, and from other, smaller attractions, such as Waco and Galveston.
Outstanding Educational Opportunities
Getting a great education is easy in Dallas, thanks to the abundance of excellent educational institutions in and around the city.
For kids, there are many schools from which parents can choose, including public, private, and charter institutions. In fact, some of the area's independent school districts are recognized as being among the best in the state.
If you want to pursue private education, you can choose from many schools that are known for their excellence, including the University of Texas and Southern Methodist University. With hundreds of schools from which to choose, finding the right one for your educational goals and needs is easy in Dallas.
Affordable
A city as popular as Dallas might be expensive anywhere else, but not here. Dallas enjoys the perfect combination of a low cost of living and high salaries that makes it easier to live comfortably in the area.
According to PayScale, the average salary in the DFW area is a very healthy $71,000. Even with a cost of living that is slightly higher than the national average, that salary gives you plenty of room to enjoy the many attractions that Dallas has to offer.
Dallas may be slightly more expensive than the national average, but it has a cost of living that is measurably lower than many other major cities–32.9 percent less than NYC, for example!
Enjoy buying groceries, obtaining healthcare, and finding great housing in Dallas, all for less than the national average.
Growing Job Market
The job market in Dallas is diverse and growing, with numerous Fortune 500 companies headquartered here and industries from healthcare to transportation established and thriving. The tech sector in particular is regularly delivering high-paying and exciting jobs.
Dallas is recognized as one of the best places for new graduates, thanks to an average starting salary of $38,000. Add in a low unemployment rate and an abundance of big companies offering great jobs, and you can move to Dallas confident in your ability to enjoy gainful employment here.
Endless Shopping and Dining
If you have a little extra in your paycheck, you will find plenty of places to spend it. Dallas is a thriving hub of shopping and fine dining, allowing you to enjoy upscale stores and good food anytime the mood hits.
In fact, Dallas is home to more restaurants per capita than any other major metropolitan area in the United States and was named Bon Appetit's 2019 Restaurant City of the Year. That means lots of good eating, from food tours to world-renowned Tex-Mex to international flavors.
Want to hit the stores before or after your incredible meals? Try shopping meccas in areas such as Highland Park Village, Galleria Dallas, and the Dallas Design District. Food and fun go hand-in-hand in this exciting city.
Abundant Sports
For the sports fan, Dallas is a dream come true. Some cities may struggle to support even one professional sports team, but Dallas boasts no less than six professional sports teams, including women's and men's basketball, women's soccer, football, baseball, and hockey.
Those teams do not even include NASCAR events and the more local sports teams who can earn your loyalty, including college sports, major sporting events, and more. Come to Dallas for the sports heaven you've been dreaming of!
Outdoor Activities
Outside is the place to be in Dallas. The city's incredible weather means mild winters give way to hot summers and lots to do all year round. You can choose to enjoy walking, biking, or running along any of Dallas' four lakes, or you can choose to travel a little further to enjoy numerous other waterfront areas.
You can also enjoy the outdoors at the Botanical Gardens and Arboretum, the Trinity River Audubon Center, and other beautiful natural areas.
Arts and Culture
The arts thrive in Dallas, home of one of the nation's largest urban arts districts. The Dallas Arts District houses the Dallas Museum of Art, the Crow Museum of Asian Art, the Perot Museum of Nature and Science, the Nasher Sculpture Center, Wyly Theater, Winspear Opera House, and more on its 68 acres. Add in symphonies, community theaters, and galleries, and you have a huge and bustling area where you can embrace your love of the arts.
Festivals and Events
Dallas loves to have a good time, as evidenced by the number of festivals and special events it hosts every year. One of the biggest of these is the State Fair of Texas.
This huge annual event brings thousands together in September for rides, incredible fair food, exhibits, auto shows, livestock showcases, and more. One of the largest and most famous state fairs in the country, it does Texas, and Dallas, proud.
Diverse Neighborhoods
The fair may only occur once a year, but Dallas has incredible features to offer you every day in the form of lively, beautiful, and diverse neighborhoods.
If you want an upscale life, choose to take up residence in Uptown. If you want history and outdoor beauty, consider living in Lakewood, and choose Trinity Gardens for an area that has been revitalized.
Dallas has much to offer. If you are thinking about relocating to this vibrant and welcoming city, choose the movers who offer you just as much: Experience, attention, and a stress-free move. Choose Ward North American.