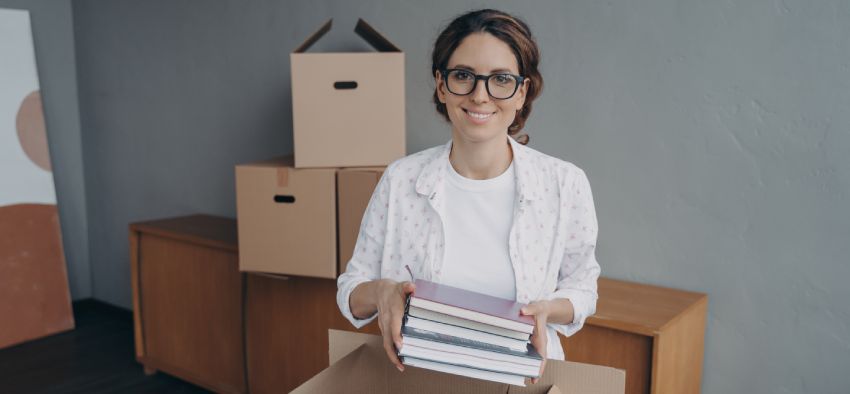 Books are an integral part of many people's belongings. The average American home has 114 of them. Bringing these treasured items with you during a relocation can present certain challenges, however. From managing their significant weight to finding boxes sturdy enough to carry them, moving books requires some planning. Here is a look at some of the best tips for making the process more efficient and less stressful.
Thin your book collection
While giving up some of your books might seem unthinkable, the reality is that books are heavy. And when moving, weight is money. You can save time and expense by going through your books and packing only the ones that are most important to you.
Sorting your books is a subjective activity. However, here are some ways you can decide which books to keep and which to give away:
Only keep books you will read again.
Keep your favorite books.
Hold on to books you've read in the last year (or other period of time).
Getting rid of the books you don't want to keep can be hard. However, you don't have to recycle them if you don't want to. Here are some other ways to make sure your books get into others' appreciative hands:
Give them away to family and friends
Post on a local Buy Nothing group
Sell to a used bookstore
Donate to a local library or charity
Once you finish sorting your books, you will be ready to begin the process of packing them.
Organize your books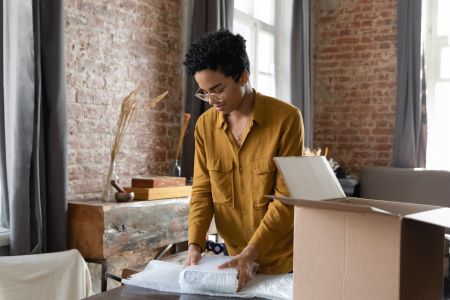 Once you know which books you want to keep, you can organize them in order to make them easier to put away when you get to your new home. For example, sort by paperback and hardback, by series, size, or any other criteria you desire. The goal is to pack your books in such a way that you can easily pull them out of the box and place them on the shelf.
Choose smaller, sturdy boxes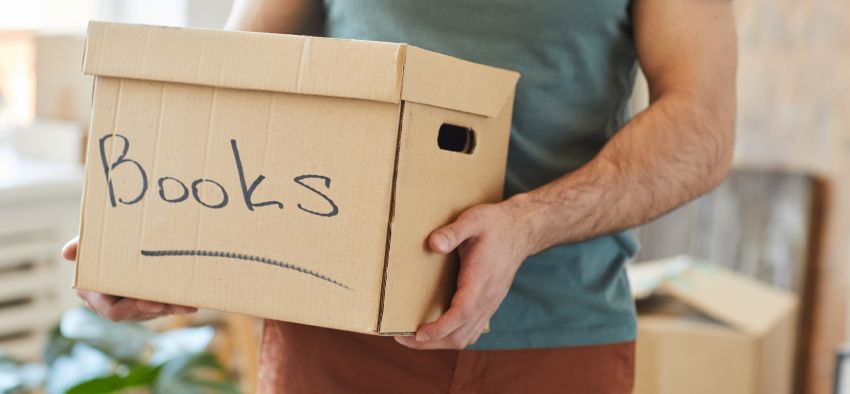 Books are heavy. Flimsy cardboard boxes will quickly buckle under the weight of stacks of books. Large boxes may be difficult to move.
Successfully packing for a move with books begins with selecting the right type of box. Here are some things to look for in the ideal book storage container:
Choose a sturdy box
Select smaller boxes, even though there may be more boxes to move.
Avoid reusing boxes for books.
Look for strong corners and edges.
Once you have the right boxes, reinforce them with packing tape. Place tape around all the exterior seams of the box, and along the inside bottom of the box. This practice will make your box less likely to fall apart under the weight of the books.
Do not overfill your boxes
In keeping with your goal of safely getting your books from one place to another, take the time to follow some best practices when it comes to packing books.
In particular, you will need to avoid overfilling your boxes. Doing so can make your boxes too heavy to safely move. It can also put too much strain on your boxes, increasing the chances of breakage.
In addition to not overfilling your boxes, try these steps to safely and securely store your boxes for relocation:
Place same-sized books together.
Fill gaps in the books with soft or lightweight materials.
OR fill the gaps with bubble wrap and packing paper.
This process may result in more boxes, but it will make moving those boxes easier and safer.
Label your boxes
Part of your book moving supplies should be a black permanent marker for labeling your boxes after each one is packed.
In addition to noting that there are books in the box, you should also add a warning that the box is heavy. If you have ever sorted your books in a particular way, you can also put which books are in the box (e.g., paperbacks, mysteries, etc.). Labeling your boxes will make unpacking faster and more organized.
Carry your boxes carefully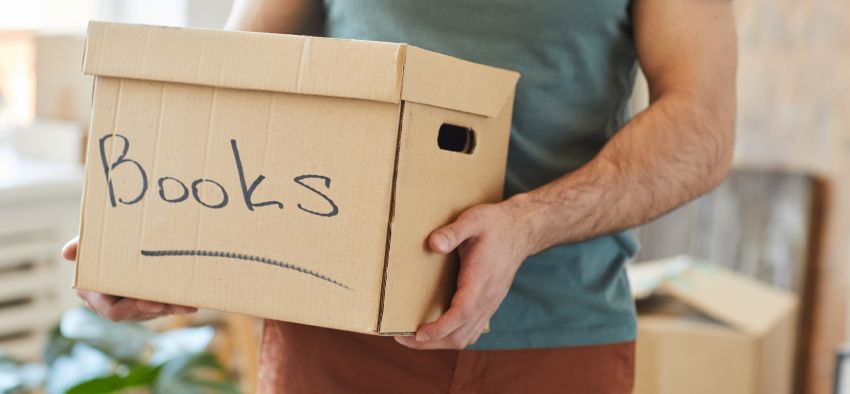 One of the risks of moving books is injury from heavy containers. If you have to move your boxes, either because you are doing the move yourself or because you are moving them within your new home, follow best practices to avoid injury.
Bend your knees and squat.
Test the weight before pi king up the whole box.
Enlist help as needed.
Place feet shoulder-width apart.
Lift the box using your legs as you stand.
Walk slowly.
Bend your knees as you place the box down.
Careful handling of properly packed boxes will prevent injuries that could sideline your entire move. Remember that, if necessary, you can get equipment like a dolly to assist with the movement of the boxes.
The best hack for packing books is to enlist the help of an experienced moving company. Here at Ward North American, we have more than 40 years of experience providing meticulous and professional support for individuals and businesses. Let us help you move your books, and your belongings, with ease!