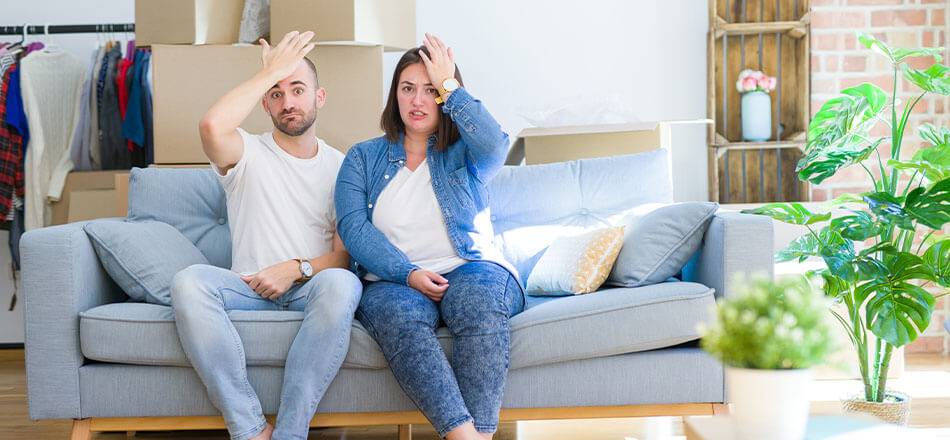 Moving can be one of life's most daunting tasks. Relocating basically everything you own to a new place can be challenging even if that new place is just across town. There are so many facets to moving that it's easy for a few of them to go wrong. Factor in the anxiety that often accompanies moving, and the stage is set for a mistake or two to occur.
To help your move go as smoothly and as pain-free as possible, here are 10 common moving mistakes, along with the steps to take to avoid them.
1. Failing to do your homework in advance
A move requires a lot of coordination, so do some research in advance. Get quotes from more than one moving company, and always check to make sure they're in good standing with the Better Business Bureau. Set a budget for your move, or you may be caught by surprise by the costs.
2. Not taking measurements
Before your couch is loaded into the moving van, did you make sure it will fit through the front door of your new place? Know the dimensions of your large and bulky items, as well as the dimensions at your new space.
3. Forgetting to label your boxes
When you're ready to relax after moving, it can be disappointing to plop down on the couch and realize you have no idea where the TV remote is — or much of anything else. Label your boxes so you can find important things quickly without unpacking everything. This also will help you handle delicate items with care.
4. Waiting until the last minute to pack
Nothing guarantees a stressful and confusing moving experience like waiting until the last possible minute to start packing. Take your time and do the job right by starting as early as possible. You can always temporarily keep some items in storage, too.
5. Not having packing supplies in advance
Running out of boxes or bubble wrap while you're in the middle of packing is frustrating and wastes time. Make sure you have everything you need before you get started.
6. Forgetting to pack an "essentials" box
You may be organized and pack everything up according to which rooms items belong in, but pack at least one box with the items you'll definitely want immediately — including any medications you may need, and other necessities such as toiletries.
7. Packing things that shouldn't be packed
Certain items aren't worth taking with you to your new home, and they can be dangerous in transit. Perishable, corrosive or flammable items should be disposed of properly before your move.
8. Forgetting to secure your boxes
Failing to tape up boxes is a good way to damage your belongings. Also use a layer of crumpled paper or bubble wrap inside the boxes for added protection.
9. Letting your kids and pets run free
Moving is a lot of work, and allowing pets and kids to run around and get underfoot can be dangerous. Make sure your kids and/or pets are with a sitter during your move.
10. Lifting with your back
Moving involves a lot of physical activity. If you are handling part of the move yourself, avoid injury by using proper techniques. Lift with your legs and not your back, and wear protective gear. To absolutely minimize risk, hire professionals to do the heavy lifting for you.
Moving can be stressful, and it can be much worse if you're not careful. Avoiding these common moving mistakes will contribute to a successful and less stressful move.