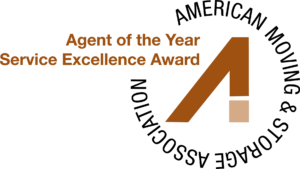 ALEXANDRIA, Va. – Ward North American, a full-service relocation company and agent for North American Van Lines, is the winner of the highly-coveted 2014 Moving & Storage Agent of the Year Service Excellence Award from the American Moving & Storage Association (AMSA), the national trade association for the professional moving and storage industry. Ward was selected for the award by a panel of experts from more than 2,400 eligible organizations across the country. The company will be presented with the award during the AMSA's 96th Annual Education Conference & Expo in Orlando, February 8-11, 2015.
The award reflects AMSA's and the industry's commitment to excellent customer service, and is presented to agents nominated by their affiliated van line based on customer surveys and van line experience. Nominations are judged primarily on customer service assessments and other industry awards and recognitions. Consideration is also given to factors such as leadership, innovation, community involvement, and activities that enhance the industry's image.
"Ward North American has earned this honor in recognition of their excellent dedication to improving the industry, commitment to employees and support for the local community," said AMSA Acting President and CEO Scott Michael. "We are proud they are a member of AMSA and a participant in the ProMover program, which helps consumers easily find a quality, professional mover."
Based in San Antonio, Texas, Ward North American operates from five locations in Texas and one in Arizona. The company has grown from a small mom-and-pop location doing about $250,000 a year with five trucks and 10 employees in 1993 to about $50 million annually with 110 trucks and more than 600 employees today. Ward does not use any contractors for packing or other local services, and all local crews are Ward-trained employees.
In 1994, Ward started Ward University, which provides 40+ hours of classroom training and testing to drivers, crews, office staff and other North American agents. The University covers all operational aspects, including customer service practices, driver performance, employee self-esteem and how to achieve excellence.
"We are thrilled at having been selected for this prestigious honor as it recognizes our dedication to the pursuit of excellence within our organization and within the industry. It's this dedication that makes us exceptional in the eyes of our employees, customers and peers," said Kevin Ankenbauer, President and CEO of Ward North American. "At Ward, we change the lives of our employees in the name of excellence. Our employees then take the skills that they learn at Ward University and impart them to our customers, making us an organization with an appetite for continuous learning and improvement."
STEP, the Superior Terminal Efficiency Program, has been so successful at ensuring each Ward office operates the same way that North American Van Lines has asked Ward to assist in training other of their multi-agent locations on the same process. Ward has and been recognized as North American Van Lines' Agent of the Year in 10 of the past 12 years. The company also supports local philanthropic activities, including the United Way in Texas.
"Ward North American has won 'Agent of the Year' from North American Van Lines many times. Our prestigious 'Agent of the Year' award recognizes the agent that attains the best overall scores in several key categories where customer service and quality are primary and paramount," said Andy Kroll, Vice President & General Manager of North American Van Lines. "Ward North American is a great example of what a company can achieve when it puts quality first and executes it flawlessly. They are a great example for our entire professional moving industry and a well-deserved recipient of this special recognition from AMSA. We are so proud of Ward and honored to have them on our team."
Each year AMSA recognizes the best performing and highest achieving individuals and companies in the industry. The awards program receives many impressive nominations reflecting the dedication and diversity of the business sector. Recipients have made significant contributions and enhanced the image of the moving and storage industry through hard work, dedication to customer service, and commitment to quality practices.
The American Moving & Storage Association (AMSA), home of the ProMover program, is the national trade association representing the nation's moving and storage companies, which provide household goods moving services, specialized transportation for sensitive freight such as computers and trade show exhibits, and warehouse storage services. AMSA has approximately 4,000 members, including domestic and international companies and industry suppliers, and supports programs and activities that promote consumer protection, professional development, safety, and operational efficiency. Find out more at ProMover.org and Moving.org.