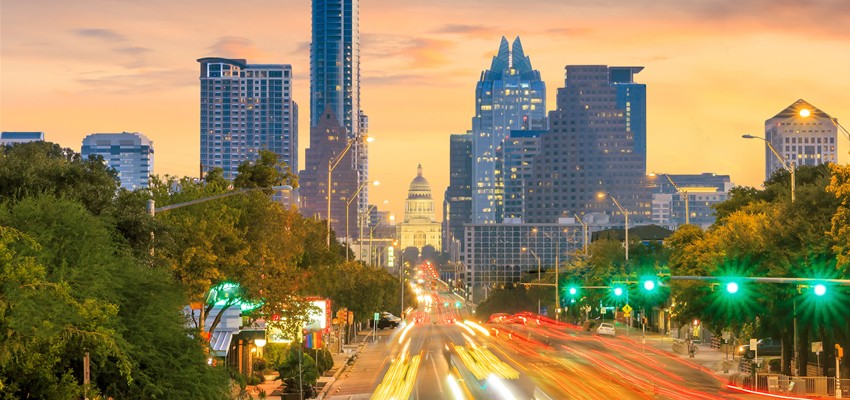 For Californians looking to escape the high cost of living in their native state, Texas is a popular choice. In 2019 alone, more than 500,000 Californians moved to the Lone Star State, and even Elon Musk, CEO of Tesla, recently moved to Texas from his West Coast state.
Where are those transplants settling? Overwhelmingly, they choose Austin, which welcomed 15,000 California residents between 2010 and 2014.
What exactly makes Austin such an appealing choice for those relocating from the West Coast? Read on to learn more about the unique appeal Austin offers.
Relatively Low Cost of Living
Austin's cost of living is slightly more expensive than the national average. A ranking system that uses 100 as the average cost of living for the United States gives Austin a score of 119.
However, California's cost of living score is a whopping 149.9. That means that Californians who move to Austin can save up to 50% on their living expenses.
California taxes are among the highest in the nation, too, with a sales tax rate of 7.25% and an income tax that can be as high as 13.3%. Texas, on the other hand, has no income tax, and a sales tax of just 6.25%.
With those kinds of savings, moving to Austin is very appealing to many West Coasters, who tire of sky-high prices and soaring taxes.
Affordable Housing
California may be known for sunny weather and great jobs, but it is also famous for exorbitant housing prices. The median price for a home in California is $586,659, putting home ownership out of reach for many.
Austin, however, has housing prices that are about half that of California. The median home price there is just $369,000.
With the real estate marketing thriving and housing prices low enough to put home ownership within the reach of young families, Austin presents an enticing choice for many Californians who want to stop renting and start saving on their monthly housing expenses.
Beautiful Weather
Of course, many other cities in the nation have lower costs of living than California, but do not attract the numbers that Austin does. Austin possesses a unique combination of other factors that make the city appealing to West Coasters.
One of these factors is weather. California's endless, sunny days can be difficult to leave, but Austin promises a similarly sunny climate to enjoy. The city receives about 300 days of sunshine a year, making it the perfect location for Vitamin D-loving residents.
Austin is also warm year-round. Average high temperatures in December-February are in the 60s. Hot and humid summers may not be ideal for some, but the sunny, warm weather year-round makes up for any summer discomfort Californians experience.
Active Lifestyle
Californians tend to put the state's sunny, mild weather to good use by leading active lifestyles that embrace the outdoors.
When they move to Austin, they don't have to give up that lifestyle. The city makes spending time outdoors easy. For example, Austin has been ranked by Forbes Traveler as one of the top cycling cities in the nation.
The Hill Country offers numerous trails and state parks for hiking, and swimming holes are both abundant and popular around the city. Other outdoor activities Californians can enjoy in Austin? Try water parks, fitness classes, and boating.
Vibrant Job Market
California may be known for its high-paying jobs, but similar jobs are also in abundance in Austin, often without the same level of competition that is present in California.
Austin, like many places in California, is a thriving center for technology and innovation, with a Silicon Hills area that is home to 5,500 startups and big companies like Apple and Cisco.
The city is set to continue growing in tech, as well as in other high-demand and high-pay areas, such as advanced manufacturing, financial services, and space technology.
Austin is also drawing the attention of big names, like Elon Musk, who referred to Austin as "mini California" and declared that the city could be the next big 'boomtown' during a recent interview with Joe Rogan.
That boom may have already started. Austin is known as one of the nation's top 10 cities for startups, one of the top 3 urban areas for job growth, and one of the nation's cities with the lowest unemployment rate.
With many good jobs available and a lower cost of living, Austin promises the best of both worlds that many Californians find impossible to resist.
Numerous and Diverse Activities
Austin is a fun place to live, thanks to its numerous activities that are diverse enough to appeal to almost anyone.
For example, the food scene may be a little different from the one in California, but delicious cuisine is always nearby, from barbecue to chili, Tex-Mex to fine dining.
Residents can also enjoy, shopping, history, museums, college sports, comedy shows, cafes, music, science, and more, all right within this bustling city.
Austin is a great place for anyone to live, which is why the city attracts about 128 new residents every single day.
For Californians, however, the city is particularly appealing. Its beautiful weather, low cost of living, affordable housing, active culture, outdoor opportunities, and more allow them to retain much of what they love about California while letting go of some of that state's less desirable traits.
If you want to relocate to Austin, make the process as sunny and stress-free as your life there can be by hiring the 100% professional-strength long-distance movers of Ward North American. We have the expertise and the desire to treat your move like our move.