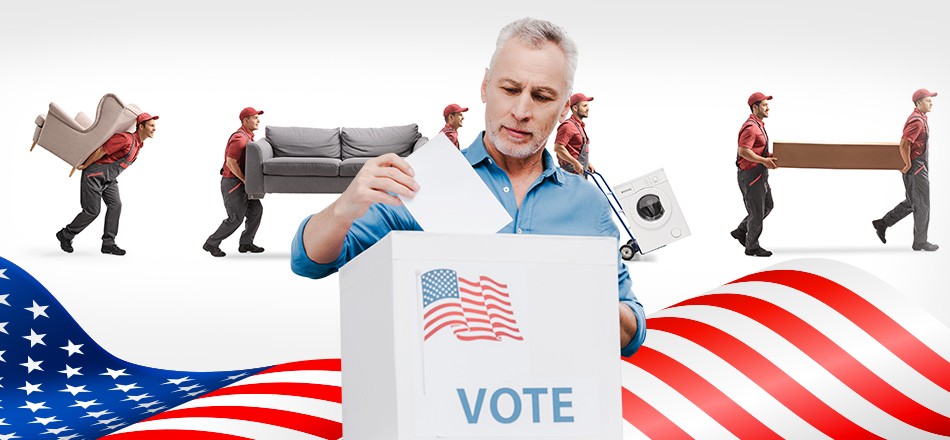 The 2020 presidential election is underway: here's your guide to moving during election season.  
Moving during election season can bring an extra layer of questions as you try to figure out how to vote while changing locations. That is why we have put together this brief guide to moving during election season. Read on to learn more about some of the most common questions you might have during this time.
How do I change my voter registration address in Texas?
In order to remain registered to vote, you must change your voter registration with your county when you move. If you are moving within the same county in Texas, you can go online here to complete your address change and update your voter registration online.
If you move to a new county in Texas, or if you are moving into Texas from another state, you will have to mail a voter application form to your new county's voter registration officials.
Because this process takes time, you should try to update your registration at least 30 days before the next election. You should also keep in mind that the voter registration deadline for Texas is October 5th for the November election.
Can you be registered to vote in two places?
If you are in the process of relocating, or if you own two homes, you may wish to register to vote in both locations. However, the laws underlying registering more than once are a little tricky.
Technically, being registered to vote in more than one location is not illegal, but it can create confusion, and you cannot vote more than once during the election.
In order to avoid potential issues, you should register in the location you consider to be your primary residence. You can then contact your state's election office to find out how to cancel your previous voter registration.
Can you vote in a state you don't live in?
Moving can make it difficult to decide where to vote. You may not move to your new state in time to register before an election, for example. You may also be relocating temporarily (e.g. for school) and plan to maintain a permanent residence elsewhere.
In these cases, you may wish to vote in your former state, if you are still registered to vote there. Simply request an absentee ballot or travel back there to cast your vote.
Can I vote if I haven't registered yet?
Some states allow you to cast a provisional ballot if you show up at the polls without having a confirmed voter registration on file for that county. These ballots will be held until they can be validated.
However, if you have not yet registered to vote in your new location, you may want to vote from your previous residence, as long as you are still legally registered to vote there.
When is the absentee ballot registration deadline?
If you do decide to cast an absentee ballot while you relocate, you can send in an absentee ballot request to your former state. You can do so here. The process is very simple and can be completed online.
Just make sure you meet the absentee ballot registration deadline. You can find the deadline for every state here.
How do I make sure I receive voting paperwork when I move?
In order to ensure that you receive critical pieces of mail after you move, including registration forms, voter confirmation forms, and mail-in ballots, you will need to forward mail through the USPS.
This process involves filling out a form online, or in person, and paying any related fees. The USPS will then forward your mail to your new address for up to a year. Be aware that you will receive your first forwarded pieces of mail 7-10 business days after you turn your form in.
You can also choose the USPS' Premium service, which will send all of your mail weekly for a monthly fee. Learn more about the process of forwarding your mail after you move here.
When you move during the election season, take steps to ensure that you are legally registered to vote, either in your previous residence or your new one. For all your other moving needs, use the professional-strength movers from Ward North American who have the experience, and the commitment, to safely move your family and your life to your new location.
Call today to schedule a moving quote!