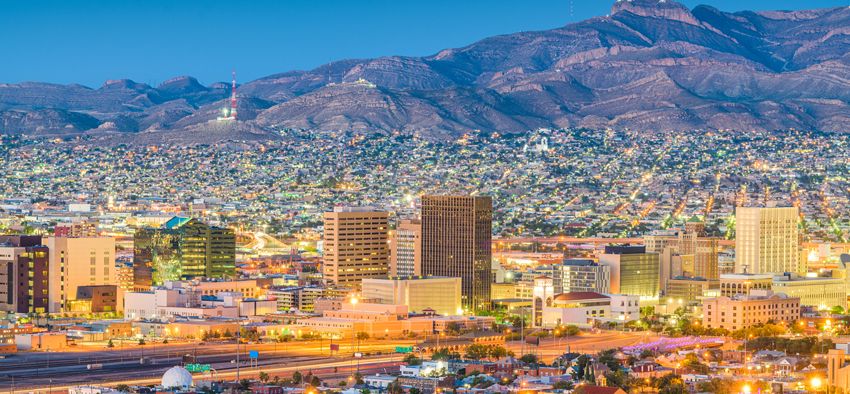 Despite its location on the border with Ciudad Juarez, Mexico, El Paso is not a sleepy border town. Instead, this large and bustling multicultural city offers one of the lowest costs of living in the country, plenty of job opportunities, completely unique cuisine and entertainment and, best of all, a welcoming environment that is guaranteed to make you feel at home.
Affordable Living
One of the non-negotiables of any location is being able to afford living there. Lucky for you, El Paso is one of the most affordable cities to live in the United States.
In 2019, El Paso was recognized as having the lowest cost of living in the entire nation, and it still beats out both the U.S. average and the TX average in major categories such as health, housing, groceries, and transportation.
In fact, when it comes to housing, El Paso's median home cost is only about $130,000, which is about half that of the median cost of housing in the nation.
With great housing opportunities and affordable expenses, El Paso promises to help you stretch your paycheck and afford the fantastic recreation, entertainment, and dining opportunities that also abound in this exciting city.
Unmatched Safety
El Paso has a long history as one of the top safest large cities in the United States. With low crime numbers and highly-ranked schools, living in El Paso should be a peaceful and rewarding experience, as well as an exciting opportunity to enjoy great food, entertainment, and outdoor recreation.
Strong Job Market
Safe and affordable, El Paso also provides ample job opportunities across numerous industries. No less than 70 Fortune 500 companies call El Paso home, while the presence of the military and the federal government also create reliable and well-paying jobs. If education appeals to you, the University of Texas at El Paso also serves as a provider of excellent jobs.
Abundant Sunshine
One of El Paso's nicknames is "Sun City," and with good reason. As one of the sunniest cities in the United States, it enjoys about 300 sun-drenched days a year. That is more than even famous Key West, FL; Los Angeles, CA; or San Diego, CA.
For residents who love soaking up the rays and enjoying outdoor activities, El Paso's beautiful weather makes it one enjoyable place to live. Add in a scant 10 inches of rain and 3 inches of snow a year and mild winters, and there is rarely a day during the year that you cannot enjoy some form of outdoor recreation.
Multicultural Environment
As a border city to Mexico, El Paso has its arms open wide to multiculturalism, embracing diverse ethnicities in one of the most welcoming environments around. El Paso doesn't just welcome residents across cultures and ethnicities, however.
It actively embraces everything that makes them unique, from food to music, clothes to festivals. Explore El Paso for just a day and discover the rich multiculturalism and welcoming atmosphere that makes residents feel so much at home so quickly.
Incredible Tex-Mex Cuisine
If you love Tex-Mex, you will love living in El Paso. While this cuisine isn't the only famously delicious meal you can get in El Paso, it is at the heart and soul of El Paso dining. Many mouth-watering eateries throughout the city offer the very best that Tex-Mex has to offer. When you live in El Paso, you can take advantage of Chuy's "Big as Your Face" burritos, the L&J Café's 4th-generation Tex-Mex cooking, and the Jalisco Café's incredible daily specials.
Local Arts and Culture
Many cities provides an arts and culture experience, but El Paso in particular provides a rich educational focus on the area's local history. When you choose to live in El Paso, you can enjoy exhibits focusing on the U.S./Mexico border at the El Paso Museum of History.
You can learn more about the area's archeological history at the El Paso Museum of archaeology, or learn about water conservation at TechH2O. Don't forget to check out the El Paso Museum of Arts or live performances at El Paso Live.
El Paso provides a unique, exciting, and rewarding place to live. If living in El Paso appeals to you, look to the movers who have experience relocating clients across the country. Ward North American is here to make your move a successful one so you can enjoy a stress-free start to a wonderful life in El Paso.