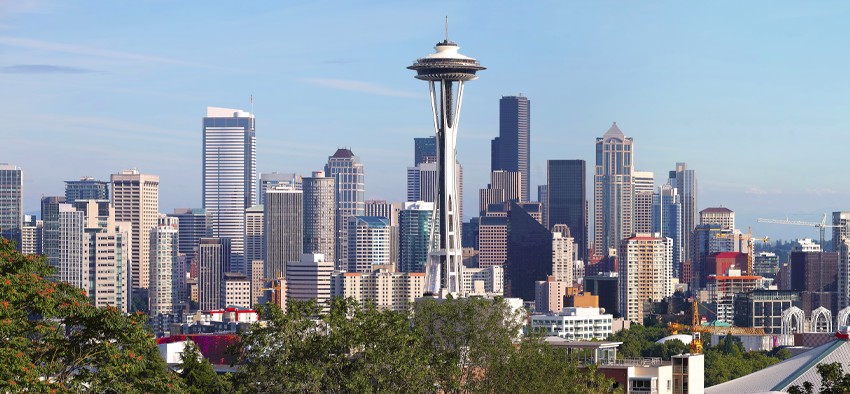 Texans love moving to Washington state. In 2019, Washington was the 7th-most popular location for wandering Texas residents, and more than 18,000 made the move from the Lone Star State to the Evergreen State. Drawn primarily by the abundance of high-paying tech, engineering, and aviation jobs in the Seattle area, these new Washington residents can expect some big changes. Here is a look at 10 of the most important things you should know before you switch from your Texas hometown to a new Washington locale.
Moving Costs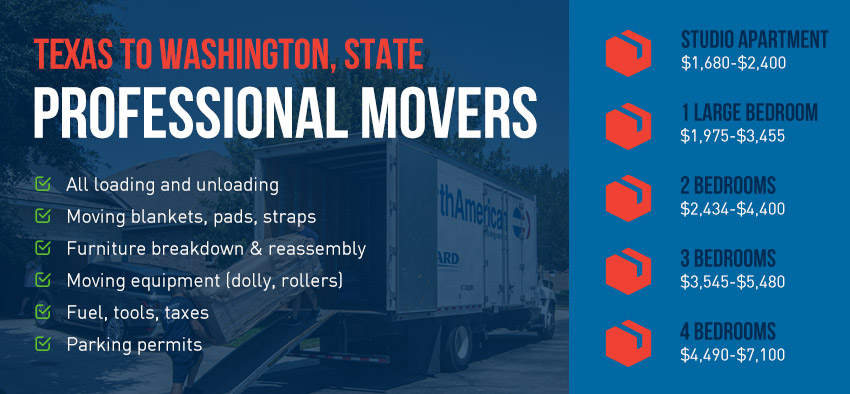 Moving from Texas to Washington can be an exciting time, but overspending on your moving budget definitely won't be. That is why Ward North American provides you with a reliable, accurate, and comprehensive quote for your moving services. Check out the average costs of moving with us, and then call us for a free quote tailored to your moving plans.
| | | | | | | |
| --- | --- | --- | --- | --- | --- | --- |
| FROM | TO | Studio Apartment | 1 Large Bedroom | 2 Bedrooms | 3 Bedrooms | 4 Bedrooms |
| TX | WA | $1,680-$2,400 | $1,975-$3,455 | $2,434-$4,400 | $3,545-$5,480 | $4,490-$7,100 |
Progressive Politics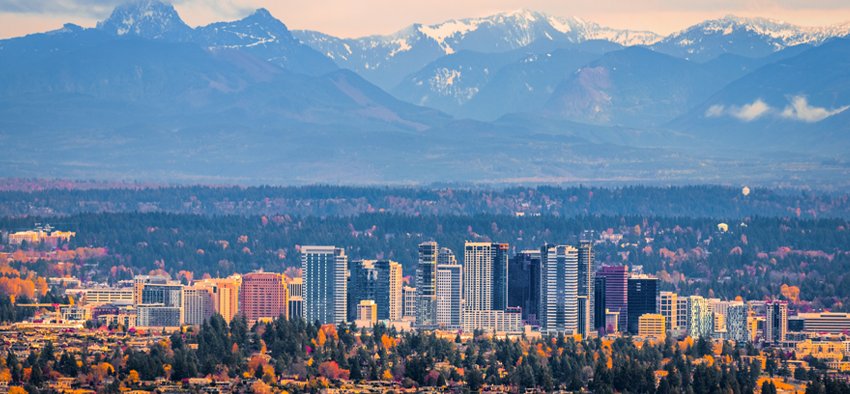 Texas is known for being a staunchly conservative state, with Republican majorities in the state's House and Senate. A move from Texas to Washington means a move from a solidly red state to a committed blue state with accompanying progressive policies and government. This progressive impact is particularly pronounced in big cities, such as Seattle, but you can expect a more Democratic feel almost anywhere you move in the state.
Lower Taxes
Texas' cost of living is lower than the national average, but its tax rate is one of the highest in the nation. In fact, the state has the 11th highest effective tax rate in the nation, at 12.79 percent, and one of the highest real estate tax rates, at 1.8 percent.
Both Washington and Texas lack an income tax, but you will still pay fewer taxes overall in Washington. Their effective tax rate is 12.02 percent. Just be aware: You can expect to spend 8 percent of your annual income on sales and excise taxes in Washington.
Cost of Living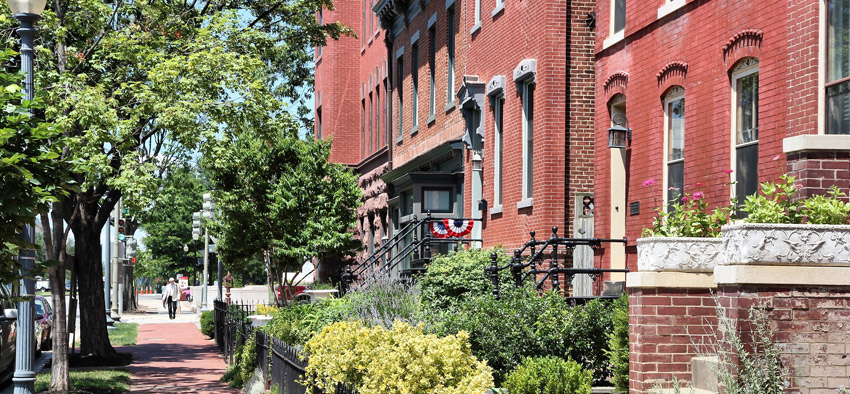 One of the biggest differences you may notice between Texas and Washington is how far your paycheck stretches. With similar median wages in the two states, this can make a big difference in your discretionary spending.
Texas, for example,  enjoys a cost of living that is 6.1 percent lower than the national average. You will also pay less than the national average in essential areas such as groceries, healthcare, and housing.
Washington, on the other hand, has a cost of living that is 18.7 percent above the national average. You will pay more for everything from groceries to housing to transportation. The good news about the state's cost of living? You will pay quite a bit less for healthcare and utilities, which are typically major expenses in a family's monthly spending. That makes it possible to live, and enjoy life, in the state even with higher expenses in other areas.
Nature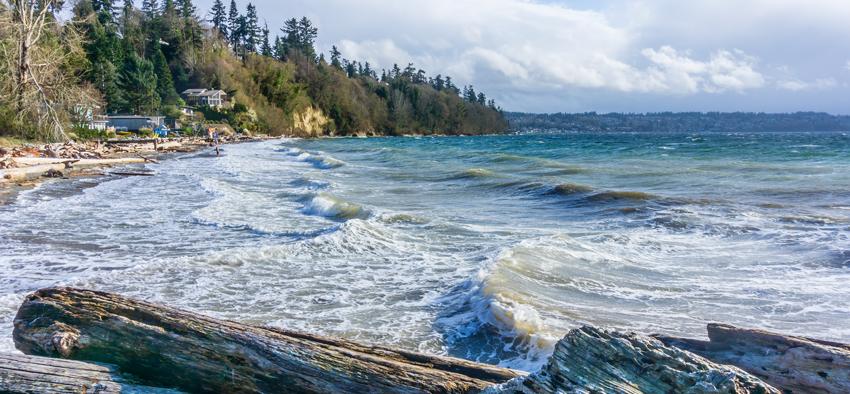 Washington state may have a reputation for rain, but it is also renowned for its stunning and abundant natural beauty. Green explodes across the state every year, and you can find almost any landscape you desire, from oceans to mountains to parks and reserves. This diverse geography creates an array of tantalizing attractions to draw you outdoors for unforgettable experiences. Here are a few of the biggest natural attractions Washington holds for you:
Olympic National Park, at the heart of which is the stunning Hoh Rain Forest. Picnic, hike, and camp in this preserved area and delight in the abundance of wildlife available here.
Cascade Mountain Range– Enjoy breathtaking hikes, enjoy the scenes at Goat Rocks Wilderness, and see alpine meadows firsthand.
Mount St. Helens – This volcano is still active, but you can embrace adventure with driving, camping, and hiking along this often-photographed and always-beautiful natural area.
Ginkgo Petrified Forest State Park – This park's 7,000 acres of petrified ginkgo trees are the reason Washington's state gem is petrified ginkgo wood.
Mount Rainier – One of the state's most famous natural wonders, Mount Rainier is the highest mountain in the Cascade Range and gorgeous meadows, trees, and views for the intrepid hiker.
Education
Texas is home to some excellent, and revered, educational institutions, such as the University of Texas at Austin, Texas A & M University, and Baylor University. However, you may find that Washington State has even more to offer educationally – The state as a whole ranks 7th in the nation for educational opportunities.
Washington is known not only for its excellent institutions of higher education (Such as Washington State University, the University of Washington, and Seattle Pacific University) but also great high schools. Nikola Tesla STEM High School, for example, was named the number 1 school in the state in 2021. Highly ranked schools throughout Washington make this a place where you can move with your whole family in the confidence that they and you can get the education you desire.
Moving Guns Considerations
If you currently own a gun and want to bring it with you to Washington, you will need to take the state's laws into consideration. Washington does allow open carry of guns without a permit (though you have to have a permit to carry a loaded handgun in your vehicle), but you will need to get a permit to conceal carry your gun. This is a simple process but you should plan to pay a fee, undergo fingerprinting, and turn in paperwork. Plan to make this application in person at your local law enforcement office.
Horse Considerations
Washington state is a horse-loving place, with the 3rd-largest equine population in the western United States, about 250,000 horses total. As a result, you should have no problem finding like-minded horse lovers in your new Washington home. Just make sure you find a place with enough land to keep your horse(s) comfortable. The state allows up to 6 horses to reside on each acre of land you own.
When it comes to moving your horses from Texas to Washington, you will need to have the right paperwork. Make sure your animal has a certificate of veterinary inspection and a negative coggins test within the year before you move, and bring the paperwork with you.
Drivers License Requirements
In order to truly feel like a resident of Washington state, you will need to get your very own Washington driver's license. You do not need to hurry to get your license – Washington state gives you 30 days to make the transition.
The state also eases the process by allowing you to pre-apply online before you stop by in person to your local driver licensing office. Once there, you easily complete the process and consider yourself a real Washington driver.
Environmental Awareness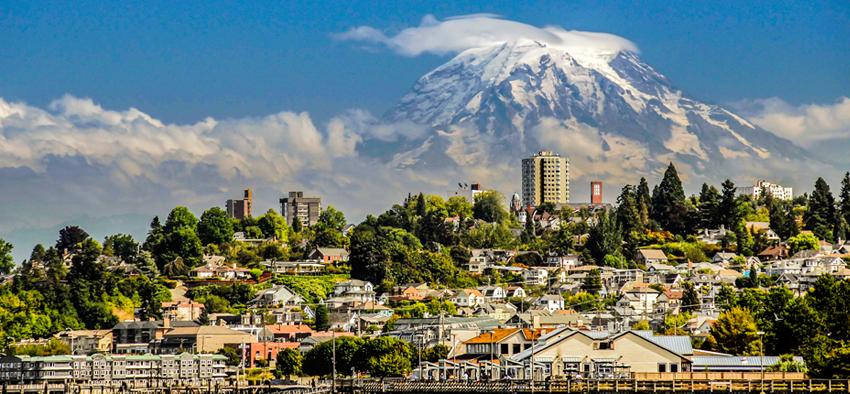 Washington State ranks among the greenest states in the nation. In 2019, the state was tied for first in its consumption of renewable energy and was in the top 10 for the number of green buildings per capita. You can also expect the state's commitment to environmental friendliness to affect your everyday life in the form of a strong commitment to recycling.
Ferries As A Way of Life
Washington State is also known for its abundance of ferries, which, much like buses in other cities, can take you to numerous points around the state. Washington State Ferries' fleet is 21 in total, and operates primarily in Puget Sound and related waterways. This may be an exciting change for a Texan, but you will probably find it becoming a regular, and beloved, part of your everyday life.