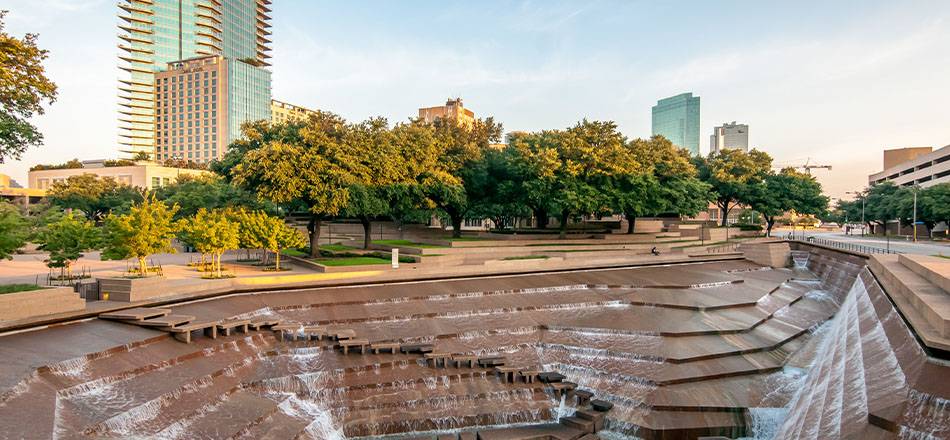 Fort Worth, TX, may not be as famous as New York, NY, or Memphis, TN, but the 16th-largest city in the nation still has plenty of job opportunities, entertainment options, culture, and vibrancy to satisfy more than 900,000 residents.
It is also a great city to move to. In fact, the Dallas-Fort Worth area attracts more new residents a day than does any other metropolitan area in the nation. Upon moving to Fort Worth, you will be joining the approximately 250 new residents a day who choose to take advantage of this big city with a small town feel.
What kind of culture does Fort Worth have?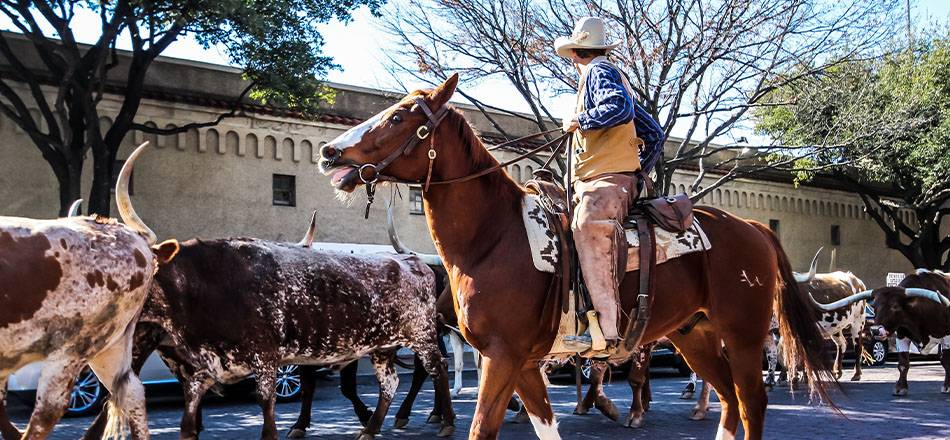 What is it like to live in Fort Worth, TX? You won't find the culture and vibrancy of Fort Worth anywhere else. Residents describe the city, and even the bustling downtown area, as a unique and appealing blend of laid back, western, and sophisticated.
In fact, when you live in Fort Worth, you can expect to find friendly people ready to strike up a conversation, show you around, and give you advice about settling in. You can enjoy the symphony alongside daily downtown cattle drives. You can enjoy a quiet, peaceful vibe, even while accessing delicious food, an active nightlife, and activities for everyone.
Of course, the Fort Worth culture isn't for everyone. If you prefer a big-city feel and a city that never sleeps, you might want to look elsewhere. If, however, you want a place where you can relax and feel safe without ever being bored, then Fort Worth might just be the perfect place for you.
How much does it cost to live in Fort Worth?
Residents of Fort Worth enjoy a cost of living that is 21 percent lower than the national average. Thanks to this low cost of living, the city is the 7th most affordable location in the nation.
Some of these low costs are due to housing prices that are 5 percent lower than the national average. Some of these low costs are due to reasonable tax policies, such as exemptions on certain items such as certain grocery items and prescription medications. Taxes are particularly flexible for older adults, who can receive a freeze on paying school taxes.
In terms of real numbers, expect the following averages for important monthly bills:
Average home price: $261,173
Average rent: $1,022/month
Average cost for a gallon of gas: $2.37
Average utilities: $214/month
Local DART travel day pass: $6
Not everything costs less in Fort Worth, however. Property taxes tend to be higher, and the sales tax is a healthy 8.25%. Utility bills are also slightly higher than the national average.
As with any area, you can also tailor your experience to your preferences and live as lavishly as you desire in upscale neighborhoods.
The city's overall affordability, however, makes it an appealing option for relocation, allowing you to reserve more of your income for the innumerable fun aspects of living in Fort Worth.
Where are some of the best neighborhoods in Fort Worth?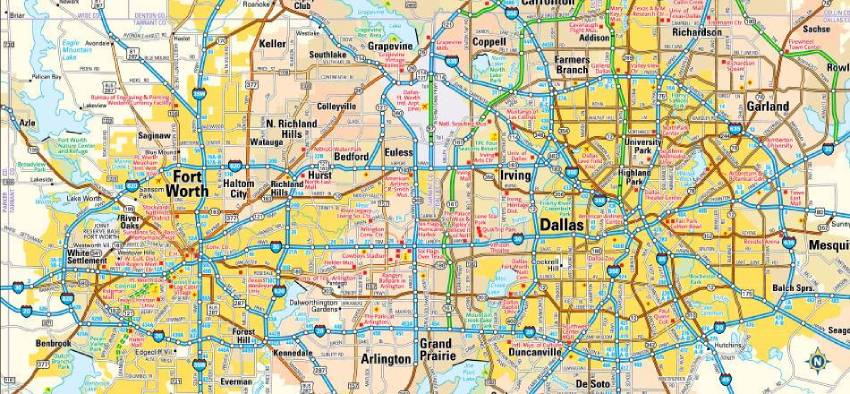 In general, you will want to move fast when you find a home you like in the Fort Worth area. Ranked 21 out of the top 125 areas of the country to live in, Fort Worth's home prices increased more than 5 percent in January 2019. A steady influx of working professionals and families creates a market where real estate moves quickly.
What are the good and bad neighborhoods of Fort Worth, TX? You will find that every neighborhood has its own advantages and disadvantages, unique features and distinctive cultures that set it apart from every other neighborhood.
Ultimately, the best neighborhood is the one that fits your needs: Whether that be a bachelor pad in the downtown area or a quiet, family-oriented neighborhood further out.
There are a number of areas of Fort Worth that are particularly desirable. Start your home search in some of these areas:
Southlake
This neighborhood close to downtown boasts excellent schools, lots of families, and a bustling town square.
Downtown
At the heart of Fort Worth, downtown includes safe and updated homes within walking distance of shops and attractions such as historic Sundance Square and the city's many activities.
Westlake
Westlake is a suburb of Fort Worth known for its upscale atmosphere.
Keller
The Keller suburb of Fort Worth is known for its high-quality school system, sports facilities, and conveniences that have earned it multiple recognitions as one of "America's Best Small Towns."
TCU
The TCU area is known for its shopping and dining options, and for its beauty. It consists of multiple neighborhoods between I30 and I20.
Arlington Heights
Arlington Heights is known for its high degree of safety and convenience, located near downtown and all the amenities you need.
Wedgwood
Wedgwood is one of Fort Worth's most family-friendly neighborhoods with a vibrant atmosphere, excellent schools, and all the shops and activities families need.
What is transportation like in Fort Worth?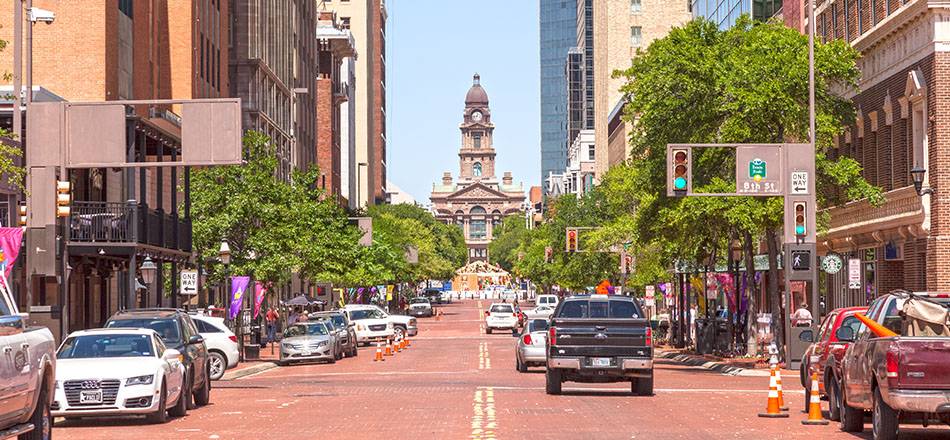 Getting around is just as important as finding the perfect neighborhood and home. If you are moving to Fort Worth, you will have multiple options for transportation around the city, but you will want to have your Texas driver's license.
The city is known for having some pretty bad traffic at times, particularly around areas that experience a great deal of construction (i.e. I35). However, driving is still the most common and convenient mode of transportation for traveling to and from most areas of the city.
Here is a look at some of your other transportation options:
Walking
In certain areas of the city, walking is a viable option. The downtown area and the Stockyard District are compact and easily walkable. You may also find that you can easily walk around your neighborhood to access areas such as grocery stores and attractions. Fort Worth also boasts Trinity Trails, which are more than 70 miles of recreational trails that connect certain areas of the city, such as downtown, the zoo, and the Cultural District.
Public Transportation
Fort Worth also has a strong public transportation system in place.
The Trinity Metro Rail provides affordably-priced trail and bus fares to specific destinations within the city. You can expect to pay less than $3 per ride, or you can choose from a variety of passes.
DART (Dallas Area Rapid Transit) also serves Fort Worth, and allows you to get to Dallas and 12 surrounding cities. Fares through DART are also very reasonable.
Flying
Fort Worth provides access to the Dallas-Fort Worth International Airport. This bustling transportation hub is larger than Manhattan and serves more than 260 destinations worldwide.
What is the Fort Worth job market like?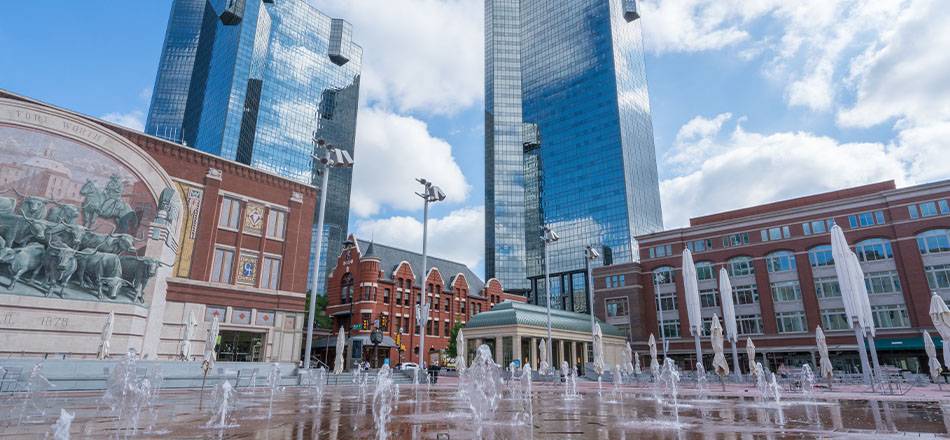 What advice would you give to someone who is moving to Fort Worth, TX? One of the first pieces of advice would be to embrace the vibrant job market. If you are thinking about moving to Fort Worth, you can be sure that you will find numerous job opportunities in an area bustling with major industries and businesses.
The Dallas-Fort Worth area enjoys the fifth-highest concentration of Fortune 500 companies in the nation and in total is home to more than 80,000 businesses.
Industries that thrive in the area include healthcare, the airport, trade, distribution, and telecommunications. Some of the largest businesses in the area include Lockheed Martin, GE, Radioshack, AMR/American Airlines, Texas Christian University and more.
Thanks to these thriving industries and big-name businesses, job opportunities in 2019 were growing at a rate of 3.9 percent, which was more than twice the national average.
What is there to do in Fort Worth?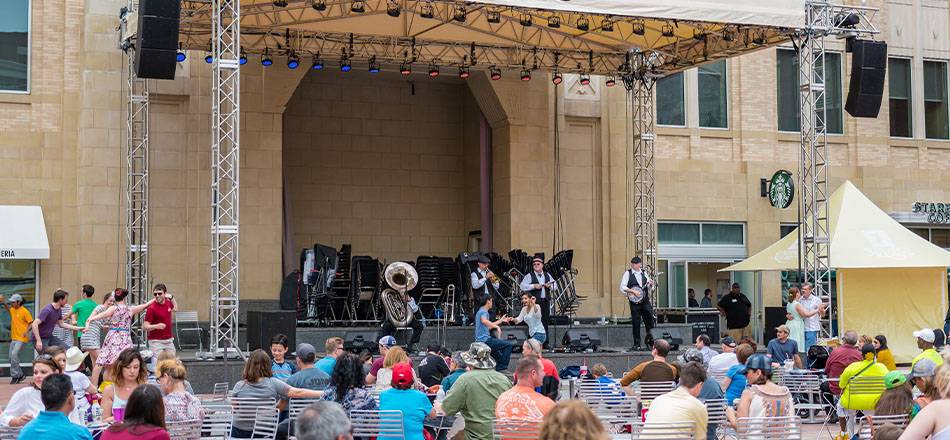 All work and no play is impossible in Fort Worth. The city's promising job market is matched only by its entertainment options. Here you will find an appealing mix of old west and modern activities, as well as down-home Tex-Mex cooking and sophisticated restaurants.
Enjoy, for example, cattle drives and rodeos in the Stockyard District, or enjoy performing arts Bass Performance Hall or the Lone Star International Film Festival. Other must-see attractions in the city include some of the following:
The Fort Worth Zoo, home to more than 7,000 animals and rated the number 1 attraction in the Dallas-Fort Worth area by Zagat.
The Cultural District, home to multiple renowned museums and stunning works of art, such as Michelangelo's first painting.
Diverse food, from tacos to pizza to foodie delights.
Fort Worth Water Gardens, which boast four acres of water-based architecture, such as pools and fountains.
The Fort Worth Symphony Orchestra and the Fort Worth Opera
Annual festivals, such as the Main Street Arts Festival
Fort Worth Botanic Gardens
The Texas Cowboy Hall of Fame
Thinking of relocating to Fort Worth? You have much to look forward to in this diverse, friendly, and vibrant city. From a great cost of living to beautiful neighborhoods, affordable transportation, plentiful jobs, and numerous entertainment options, the city offers everything individuals and families could want.
If you need help with your Fort Worth move, choose the professional-strength movers who know Fort Worth and know how to move: Ward North American. We can make your move to the area smoother and less stressful, ensuring that you start your new chapter in Fort Worth with the excitement and anticipation it deserves.