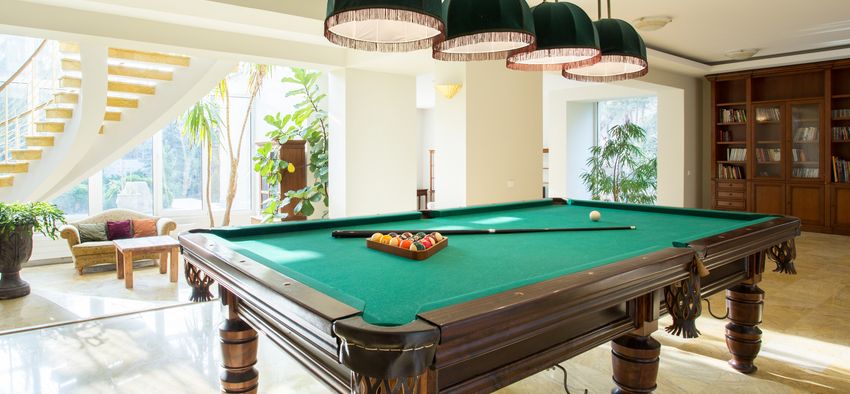 Pool tables are one of the specialty items that many people try to move themselves in order to avoid the added expense of hiring professional assistance.
The reality, however, is that pool tables are more delicate, and more difficult, to move than they appear. Choosing professional pool table movers can save you time, money, and stress.
Here are 7 ways that these movers can make your relocation smoother.
Pool table movers use specialized equipment
Moving a pool table requires specialized equipment to disassemble, transport, and move. From something as a socket wrench to something as complicated as an appropriately-sized truck and storage to keep the table from moving during transport, each tool is essential to successfully moving your table.
You could choose to purchase this equipment yourself, but chances are you would invest money in equipment you may only use once. Instead, choose movers who have the equipment, tools, and trucks needed to complete the job in a timely and efficient manner.
Pool table movers possess the necessary experience
Pool tables can be finicky, particularly when you are disassembling and reassembling them. Most of the time, the correct method of taking them apart and putting them together depends upon the brand, model, age, and condition of the table.
You could try to find the right instructions for your table and take it apart yourself, but professionals have the experience they need to confidently handle the move themselves.
Their experience makes it less likely that they will damage your table during the move, and more likely that your table will arrive safe and secure at its final destination.
With experienced movers, you spend less time stressing over the process and instead enjoy the peace of mind that comes from knowing that your pool table is in the hands of people who know exactly how to take care of it.
Professionals have insurance
Moving a pool table by yourself, thanks to its weight and bulkiness, can be dangerous. If you or your friends suffer injuries, or if you damage property along the way (e.g. Bump into a wall, drop the table on the floor), you will have to pay out of pocket to make things right.
Professional pool movers, however, have insurance and manpower. You can relax knowing not only that your pool table is in good hands but also that if something does happen, you will not be responsible.
Pool movers handle every step of the process
There are many steps to relocating a pool table, and each one requires care and precision, from disassembling the table to moving it to the truck, to unloading and reassembling it.
The process can be time-consuming and labor intensive, and one mistake can ruin your table–for good.
Pool movers make the process easier by handling everything themselves. They do not just pick up your table and take it out to the truck. They painstakingly disassemble the table for you, move it safely to the truck, transport it without incident, and carefully reassemble it in its new home.
That kind of comprehensive service can make hiring professional movers for your pool table well worth the expense.
Pool table movers save you time
Moving a pool table can be a time-consuming process. Disassembling and reassembling the table involves many steps and painstaking work to get right.
You also need to factor in the time it takes you and your crew of helpers to move the table to and from the truck without damaging it (or them).
Instead of spending hours trying to move this one piece of furniture, let the professionals do it for you. They use their experience and specialized equipment to complete the process efficiently, while you spend your time focused on other important parts of your relocation.
Pool table movers can save you money
Hiring professionals to move your pool table will cost you extra, but the reality is that doing so may save you money in the long run.
Pool table movers can actually cut down on your moving expenses in the following ways:
Save you money on fixing damage to property.
Save you money on repairing or replacing a damaged table.
Save you money spent on purchasing your own tools and equipment
Pool table movers give you peace of mind
The cost savings of hiring professional pool table movers do not compare to the peace of mind they bring as well.
When you allow professional movers to take care of your pool table, you can focus on the excitement of the move and the other aspects of the relocation that demand your attention.
No worrying about how to safely disassemble your table or put it back together. No stressing over keeping your old home and your new home safe from bumps and falls during the move. No frantically looking for a missing screw or pool table pocket. Just confidence in the skill and expertise of the movers you hired.
Are you ready to hire movers for your pool table? Then hire the best. Hire Ward North American. We have years of experience handling specialty items like pool tables. Our teams of movers will treat your table like their own and get it safely to its destination, whether you are moving it next door or overseas. Rely on the professional-strength moving services of Ward North American, and contact us today!