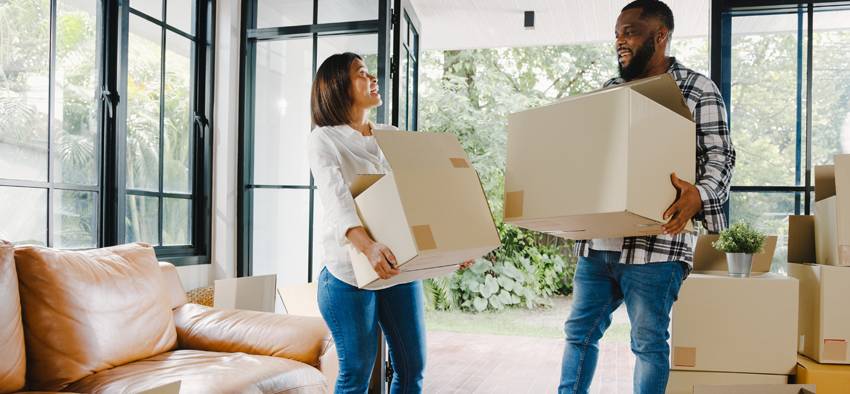 The pandemic may be ongoing, but so is the desire to move. Despite high home prices and low inventory, people are still relocating, many of them to Texas. Between July 2020 and July 2021 alone, a whopping 170,307 people moved into Texas from out of state. At the same time, where, when, and how people move is being affected by 5 major trends. Here is a look at all of them.
Exodus From Big Cities
The first trend impacting where and how people move began before 2020, but was accelerated by the onset of the pandemic: An exodus from big cities in favor of suburbs or smaller cities and towns.
Driving this trend, unsurprisingly, is the pandemic-fueled rise in remote work. With the option to work from anywhere, many people choose less crowded and more affordable smaller cities, such as Plano or Fort Worth, over bigger metropolitan areas such as San Diego or Chicago. Some cities even offer incentives for people who relocate there, making a move to a smaller city even more rewarding.
In addition, people are beginning to look for larger homes (with space for home offices), while maintaining the walkability and convenience of being in the city. Enter the suburbs, where a great quality of life and big homes exist alongside easy access to urban areas.
Local Instead of Cross-Country Moves
This trend toward suburb living also reflects another major moving trend: Local moves rather than interstate moves. In 2021, 43 percent of people moved within the same city, while only 20 percent completed an interstate move.
In Texas, for example, people often move out of the state's bigger cities in favor of the quieter living available in that city's suburbs. For instance, a family may move from Houston to Killeen, or from Dallas to Plano.
Remote work is only part of the reason people want to get out of the big cities. Getting away from pandemic hot spots has also played a role, as has the growing desire, and financial ability, among millennials to purchase homes.
Slightly Improved Housing Inventory
The housing inventory in Texas reached a low point in May 2021. Since then, inventory has remained extremely tight, far below the preferred 6 months worth of inventory. However, small improvements mean that it is slightly easier for buyers to find homes within their desired price points.
A few factors are driving this slow shift to more normal levels of home availability. More people are willing to list their houses. A building frenzy across the state is providing more new construction options. And, rising mortgage interest rates could deter some people from entering the real estate market.
The availability of homes will continue to depend upon the specific areas where people hope to move, but as the housing market eases a little, it could encourage more people to purchase a home and move to their dream area within Texas.
Slowing Home Price Growth
Despite the improvements in housing inventory, home prices remain high, in Texas and throughout the United States. In fact, home prices are expected to rise throughout 2022.
The good news for would-be movers, however, is that these prices should rise much more slowly than they did in 2021. Instead of dramatic increases in the double digits, home prices should only grow 3-12 percent.
Combined with slightly less restrictive inventory, these home prices may encourage home buying and subsequent moving for many individuals and families throughout Texas and the nation.
Permanent Location Shifts
While movement away from big cities into smaller locales has been a dominant trend in 2021, and may continue to be a major factor in moves throughout 2022, it may also indicate a more permanent shift in where people choose to live.
Remote work is likely here to stay, with 83 percent of U.S. office workers planning to continue working from home at least on a part-time basis. As a result, flexibility in where people live, and a preference for less crowded and less expensive locations, is also likely to continue.
In addition, people are also likely to continue flocking to Texas, away from previously popular states such as California and New York. With a lower cost of living, appealing suburbs, and great cities, Texas has a lot of offer people who want to relocate to a better quality of life and bigger houses.
Regardless of where or when you move, one thing remains constant: The need for a reliable and skilled mover to take on the stress and relocate your items safely. Here at Ward North American, we have the years of experience, comprehensive services, and professional-strength movers to relocate you anywhere you want to live, in Texas or beyond. Contact us today to learn more!