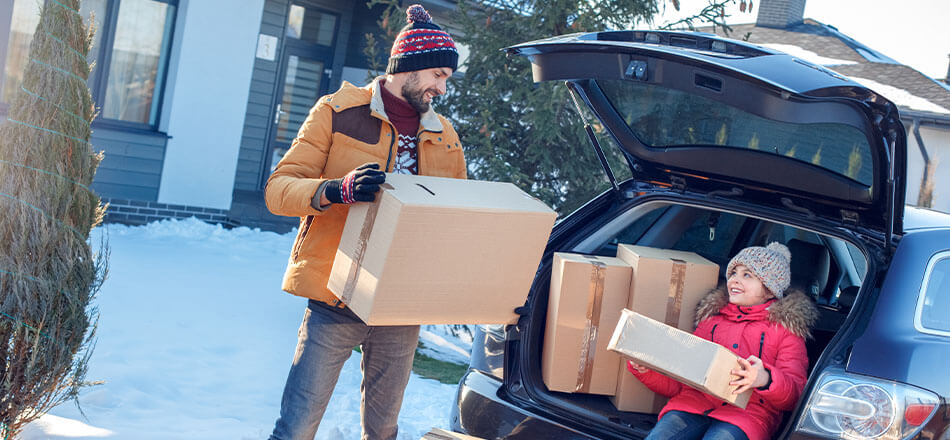 Millions of people travel during the holiday season. The majority of them are only doing so temporarily, to visit friends and family. All that extra traffic means that if you're permanently relocating at this time of year, it's going to be a bit more difficult than at any other period.
Whether you're moving across the country or down the street, the holidays can make the attempt more stressful and hectic. That doesn't mean you have to suffer through it, though. With a little forethought, you can successfully navigate your moving day and still have a merry holiday season.
Tips for Moving During the Holidays
Preparation is always the key to a successful move no matter what month it is. Here are some basic tips for better ensuring you have a stress-free moving day around the end of the year:
Schedule well in advance

Residential movers want to spend these days with their families, too. Don't wait to hire them until they're short-handed.

Pack for the festivities

If you and your family look forward to trimming the tree and decorating, don't let your move cramp your style. Pack your decorations and wrapping paper in clearly labeled boxes. That way, you can jump right into putting up some cheer as soon as you're settled in your new place.

Give back

This is a perfect opportunity to donate your unwanted clothing and other items to charity. Not only will you lighten your load, but you'll also brighten the season for the less fortunate.

Give yourself time

If you live in a colder climate, you'll probably have to contend with ice and snow during your move. Be sure to factor in the conditions and give yourself enough leeway to get to your new home safely.

Be safe

More break-ins and robberies happen during this time of year than any other, so be careful. Install a security system or change the locks at your new house before moving in to provide extra protection.

Budget accordingly

Money's always a little tighter around the holidays, thanks to all the spending we do on gifts. This could leave you strapped for cash if you have to move. Plan your budget as soon as you can, and don't forget to leave yourself a buffer in case the unexpected happens.
Moving Days to Avoid
If at all possible, avoid scheduling your move on the day after Thanksgiving or the week before Christmas. These times tend to be the busiest travel days of the year. The streets and highways will be jammed with shoppers as well as travelers, meaning your trip may be much longer and more stressful than it needs to be.
Expect to pay a lot more for professional moving services on those days, as well. Asking movers to work on days when they would rather be celebrating with loved ones means you'll be paying a premium for their help.
Relocating during the holidays can ruin what should be a joyous time of year, if you're not careful. Following this advice, on the other hand, should help keep you in a holly jolly mood.