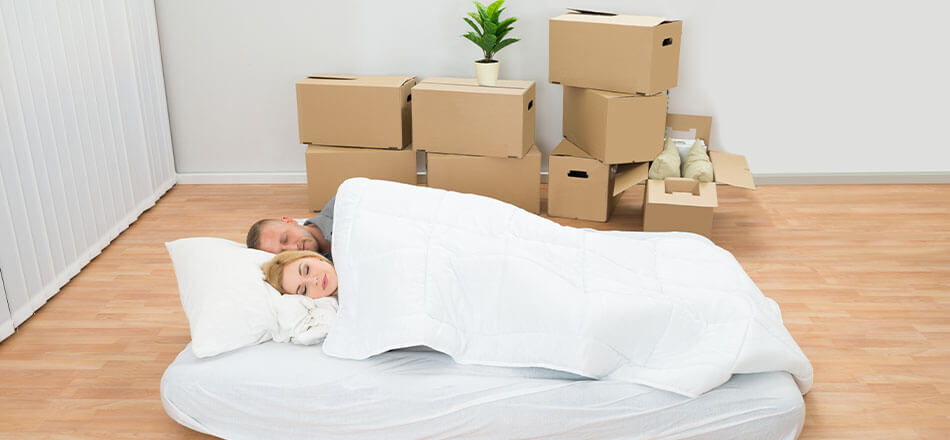 The term "moving day" is a bit misleading when you think about it. Yes, your moving day will be when you finally put everything in the truck and make the journey to your new home. Yet the process leading to that momentous occasion probably will take you more than a single day. All of the planning and packing that has to take place before your moving day more than likely will take several days on your calendar before you finally leave your old home. In that time, you might find that you'll have to do without some of the items you've taken for granted in your everyday life because they're boxed up and waiting for the day of the big move.
Preparing for a move to a new home means you may have to rough it for a few days, which you may not have been expecting. Rather than be caught by surprise by this development, you can make this transitional period part of your prep work. This can make the entire process of moving a lot easier for you and your family. Here are some basic tips for staying in your home during the moving process.
Be Prepared to Sleep on the Floor
Your bed is one of the most cumbersome items you'll need to transport to your new home, which means it's a good idea to break it down in advance of the journey. However, that leaves the question of where exactly you'll be sleeping in the nights leading to the move. You could spend a few nights in a hotel. Though if you'd rather save the money, you can look into an affordable air mattress that you can deflate and easily throw in the back of your car on moving day. An air mattress also makes for great emergency accommodations when you have unexpected guests or for a kids' slumber party. You can still get some use out of it even after you've moved into your new house.
Make a List of Items You Can't Live Without
A week before moving day, mentally go through your everyday routine and make note of any items you absolutely need to get through your day, such as your toothbrush or the book you're currently reading. As you pack your belongings, keep these essential items off to the side and designate a box or two just for them. Not only will this ensure that you don't get that sinking feeling of realizing something important is buried at the bottom of a box somewhere, but you'll also make it much easier to get settled in your new home that first night and morning. This can include planning your outfits for the next few days leading to and including moving day.
Download Some Entertainment Options
Depending on your timeframe for moving, you may need to cancel or move your cable TV, satellite and/or Internet service before you've moved out of your existing home completely. Unfortunately, because so many of our entertainment and free-time options today come into our homes through these services, you might be faced with the prospect of staring at a blank screen for a few days. If that seems terrifying to you, be proactive by loading your laptop, phone or tablet with entertainment options while you still have a connection. Many streaming services today offer the option to download movies and shows to watch while offline. Plus, filling your tablet with e-books means you only have to carry one item with you instead of a box full of books. A little planning means your last nights in your old home won't be spent watching the clock.
Living in your home during a move might not be the same as before the move. Though with a little foresight, you can make it more comfortable. Moving is stressful enough, so don't let a few inconveniences add to your anxiety in the days before moving day.