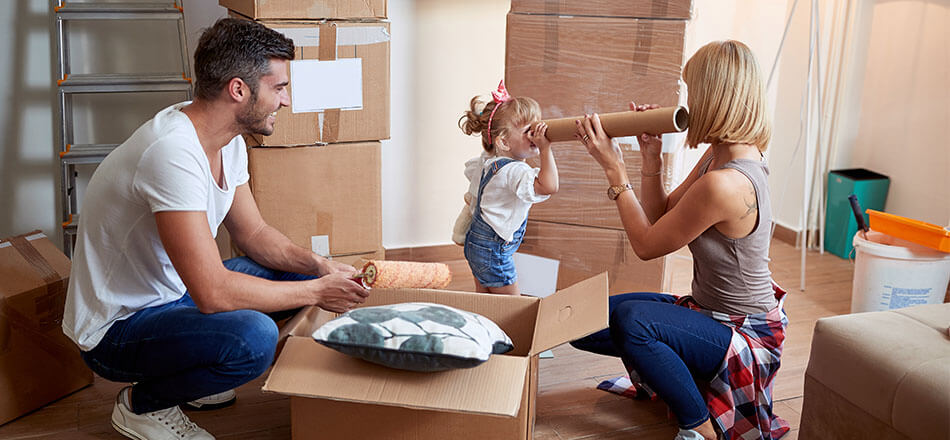 Relocating from one home to another can be stressful — but even more so when you add kids to the mix. Children thrive on routine. Moving upsets that routine. When you're preparing for a move, how can you help your kids manage life with boxes and packing tape? When moving day comes, how can you keep your kids entertained and busy — and out of the way?
Because helping your kids manage a move is key for both their safety and your moving efficiency, here's a look at some of the best ways to help your kids deal with the stress and changes that come with a big move:
Involve them

For children who are old enough to understand that you're preparing for a move, let them help you pack. As you're filling boxes, taping and labeling, look for age-appropriate ways they can be involved. Maybe they organize their toys or fill a box with stuffed animals. Perhaps you let your school-aged child tackle a few cleaning or packing tasks. Whatever the case, when you find ways to involve your kids, you can help them adjust to what's happening.

Entertain them

Even if you're the kind of parent who restricts screen time and avoids setting your little ones in front of the TV, making an exception for a few days of moving may make the process easier. Find some educational programs or download a few kid-friendly apps, and let your children enjoy moving because of the treats they associate with it. Other entertainment ideas include board games (if you have multiple children), sidewalk chalk (in temperate weather), activity books, making forts in the new living room, or playing with bubble wrap alongside you as you unpack.

Turn the trip into a project

Ask your kids to memorialize your move by giving them instant film cameras for moving day. Let them take whatever pictures they like and enjoy looking back on the experience through their eyes for years to come.

Make activity boxes

Create a box for each of your children filled with his or her favorite toys, as well as a few new ones. When you arrive at your destination, surprise each child with hours of fun catered to his or her tastes.

Take breaks

As tempting as it may be to press forward through the moving process so you can get it done quickly, pace yourself. For the sake of your kids, schedule regular breaks where you all go to the park or play in the backyard. This helps your little ones spend quality time with you — and gives you a much-needed stress-reliever.

Enlist help

There's no shame in asking grandparents or other well-trusted friends to watch your kids for a few days while you're packing or to take them away for the weekend while you're moving. Let a friend who offers to help come play with your toddler while you get some boxes packed. Section off part of the house where your kids can play with a baby sitter while you're unpacking boxes in the kitchen. Getting a little extra help can make all the difference in de-stressing the move.

Establish some normalcy

One of the hardest parts of moving for kids is the change in routine, so ease that transition with some familiar comforts. If your new kitchen isn't set up yet, make sure to pack a cooler filled with your kids' favorite drinks and snacks. Have this on hand on moving day. Likewise, if there are certain beloved toys or blankets that your kids must have, keep those with you even during the move.
Moving to a different home is an exciting experience for a family. Make your relocation smoother and sweeter for your kids by properly planning to care for their needs. By giving them a little attention during the moving process, you can make it better and more enjoyable for all of you.