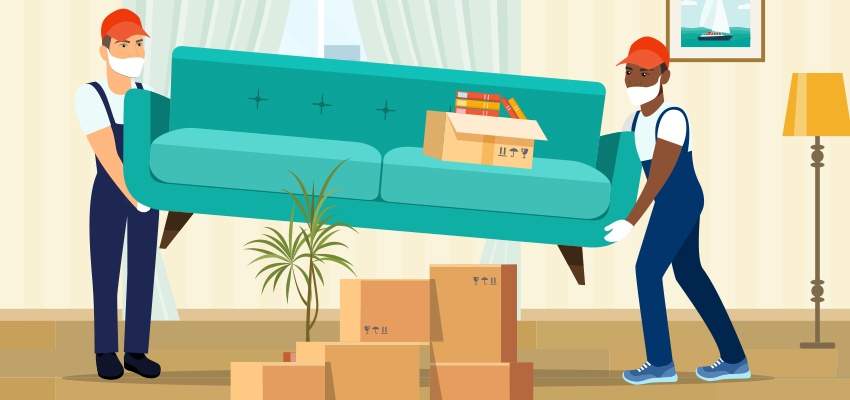 American businesses and people are dealing with the global coronavirus crisis in various ways. Some establishments have shut down for the time being, and the government is strongly recommending that you leave your home only for essential activities.
So, where does that leave activities such as moving? Is it considered essential travel or is it avoidable? If you do move during the pandemic, what are the necessary precautionary measures you should take?
What we know so far is that the American Moving and Storage Association (AMSA) has not reported any major moving company shutting down their operations due to the coronavirus, nor has the Center for Disease Control (CDC) issued any guidelines regarding avoidance of local or interstate moves.
If you have already arranged your move, contact your local moving company about their protocols and safety measures. Don't worry. If you had planned to move weeks or months ago, you can still move if you take some basic safety precautions.
Learn about some tips to have a safe move during this pandemic.
Tips for Moving Safely During the Coronavirus Pandemic
Moving in and of itself can be difficult, but during a pandemic, it is even more confusing. While the U.S., and the world as a whole, are working at a slower pace than usual, people are still moving. And you can, too, by practicing the guidelines set by reputable sources like the CDC.
Here are a few helpful tips to ensure a safe move during the current health crisis:
1. Safety Is Your Highest Priority
According to the recommendations of the AMSA, you should notify your movers ahead of time if you or anyone in your household has the virus or may have been in contact with someone who has it. Be transparent with your movers to ensure safety for everyone. Tell them if someone in your family is showing any symptoms.
In the same vein, if you had planned on using the help of your friends and family, make sure they are not medically compromised. Be proactive in this matter and inform everyone as early as possible.
2. Have a Backup Plan for Moving and Storage
The coronavirus can survive on cardboard for more than 24 hours. So, if you are using recycled boxes, be sure to wait for at least 24 hours before using them, although it's probably better to buy new ones instead. If you have moving supplies of your own, you do not have to worry about waiting to use them. If purchasing moving supplies in stores, use the self-checkout station to minimize contact.
In case you are postponing for some reason, consider other options for moving and storage. Find out if your movers provide for storage or keep your things in an out of the location at your home, or secure them in a storage center.
3. Keep a Safe Distance
According to health experts, social distancing can lower the risk of spreading the virus. So, practice safe distancing when you move. Do not stand too close to someone. Stay more than 6 feet away from others to prevent the spread of the virus between you and them.
Avoid most physical interaction, including shaking hands. You may consider making moving arrangements via via phone so that you can minimize physical contact. Make sure you use a reputable moving company that will take care of everything for you and minimize the amount of physical contact necessary between you and them.
4. Speak to Your Movers
Establish clear communication with your movers. Many things could happen during a move, and you may have to make a few changes. It is better to learn about the moving company beforehand. Ask them:
If you are planning on canceling or rescheduling, will there be a penalty?
How early do you have to inform them in case of postponement?
What deposit do they need?
Other than these general questions, you should ask them if any of their employees are showing signs of sickness. Find out their sanitization measures and if they need any disinfectants that you must provide. Make sure that they handle your containers properly and that they wear masks and gloves.
5. Sanitize Everything
After you arrive, it is crucial to sanitize and disinfect every item before you bring it in. Have items placed in the garage and carefully scrub the sealed boxes and bags. If this is not possible, you should wait at least 24 hours before starting to unpack your goods. Also, dispose of the plastic that you used to wrap furniture once you reach your new residence.
While unpacking, wear face masks and gloves and when you are done, wash your hands with soap. The Center for Disease Control advises that you should also do this frequently even when you are at home. Try not to touch your face, mouth, nose, eyes, ears or body, or any other surface when you are in the moving process during this coronavirus outbreak.
Conclusion
It is critical for your health that you follow these safety tips when moving during a pandemic like COVID-19. Since we do not yet have all the answers as to how coronavirus evolves or a cure, it is best to take as many preventative measures as possible. Relocating during a pandemic is not impossible; just remember to maintain social distancing and proper hygiene to ensure a healthy and satisfactory move.