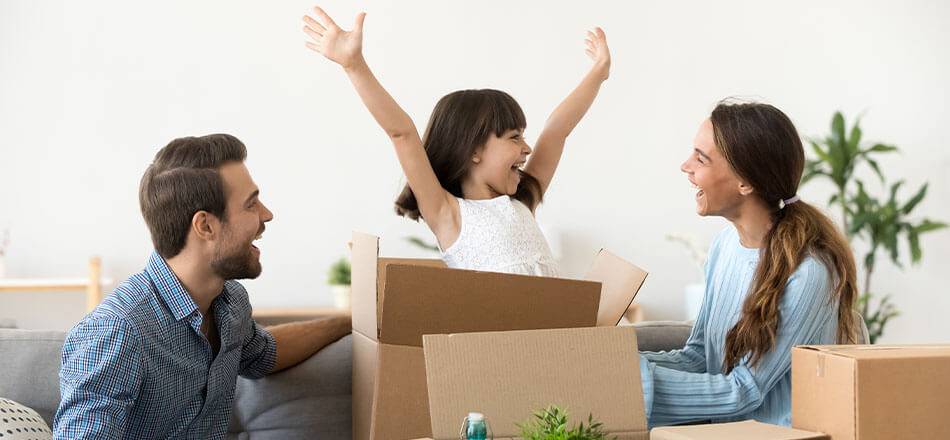 Moving long distance can be stressful for anyone, but especially for children who can't imagine a reality that's different from their own. When you move, it can uproot their sense of normalcy and the day-to-day routines that create security. They have to leave their bedrooms, schools and friends. That's exactly why, when relocating, think about your kids' reactions and work to prepare them for the transition. If you can get your children on board, it will help them adjust to their new normal, while also making the move easier and less stressful for everyone.
When you're preparing for a long-distance move with kids, here are a few simple steps to try:
1. Have a plan

A successful move starts with you, the parent. To prepare your children for a happy transition, prepare yourself. Set a clear, detailed plan for everything — from when you'll pack to who will watch the kids while you do. Make lists of everything you'll need to pack, room by room, and gather all the supplies (packing tape, markers, packing paper, boxes). Know who's helping you move and at what time. Figure out when and how to transfer your address, utilities, etc. The more organized you can be about the move, the better for your family.
2. Communicate
Talk openly and happily about your upcoming move. Tell your children where you're going and when. Review the plan regularly, and stay positive, so they have time to process what's coming. Amid these ongoing conversations, encourage your kids to express their questions, fears and concerns. Don't downplay the change that's coming, but rather, let them discuss their feelings with you, to help them know they're not alone.
3. Get them excited
Try to make the moving process fun. One idea is to let your kids write or draw on the boxes that hold their belongings. Let them decorate those boxes to their hearts' content. As a bonus, this will make locating their possessions that much easier when you unload at your new address. You might also want to purchase special "moving day activities" with your child, such as audio books, trivia games, coloring books, etc. This makes moving day something to look forward to, as it's a chance to use new toys.
4. Have items to occupy them
Avoid packing your children's most beloved toys and trinkets until the last possible day before moving. This way, they can keep enjoying their favorite things. Likewise, create a special box for each child, labeled with his or her name. Inside, keep a few special toys or blankets that will ride in the car or airplane with him or her as you travel. If you're driving, also plan to bring a cooler filled with healthy drinks and snacks. Take frequent breaks and make stops to let your kids move and expend their energy.
A long-distance move is a big change for everyone, but you can prepare your kids for a smoother transition by following the four steps above. Plan well, talk openly with your children, and find ways to make the move fun and exciting for them. This way, day by day, you'll all be able to adjust to your new home.