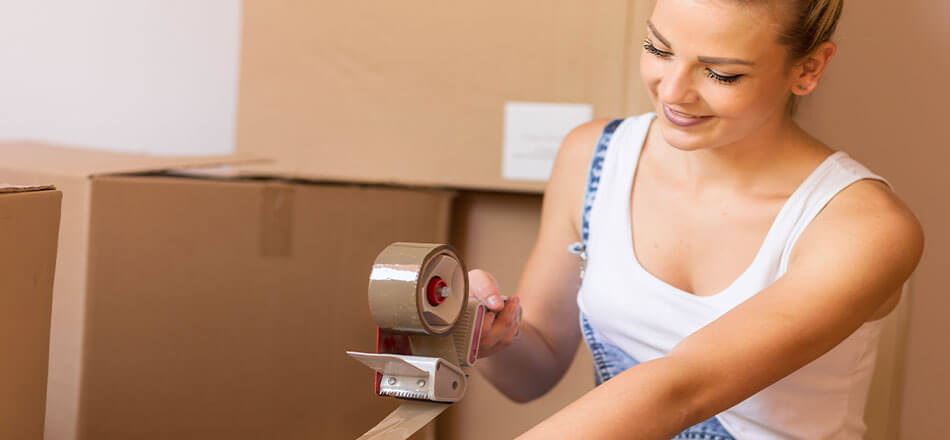 Ask anyone who's planned a move: figuring out how to pack is one of the toughest parts. Whether you're moving to a new home or an office space, it's always a challenge to fit everything you own into a moving truck.
With that in mind, here are some tips on how to pack moving boxes efficiently:
1. Start with the right supplies

Prior to packing, you need the right supplies. Get some clear packing tape, packing peanuts (or paper), masking tape and bubble wrap for fragile items, plastic wrap and a good marker for labeling. Likewise, make sure the boxes you have are sturdy, with no damages.

2. Line the bottom and top of your box with packing materials

Create some insulation for your goods by filling the bottom of each box with a little crumpled paper or packing peanuts. Add your wrapped items and layer more padding on top.

3. Wrap ordinary items in paper

Before placing them in boxes, wrap your items in paper such as packing paper, tissue paper or wrapping paper. You could even use old clothes. Newspaper is also an acceptable option, but keep in mind that ink can bleed.

4. Wrap liquid items in plastic

Because bottles of liquids can leak, wrap them in plastic instead of paper. Cover them completely or use zipped bags to protect them.

5. Group like items together

Save yourself some headaches by filling each box with similar items. Keep piles separated from one another as you're packing, so you have goods at the ready to wrap. Some examples include DVDs, office supplies, bedroom linens, living room books, etc. Likewise, if you pack an appliance or electronic with multiple components, make sure all the parts stay together in a box.

6. Bag small items

When packing screws, wires, hardware or other small items, don't leave them to float among everything else in the box. Group them into small plastic bags that you label. Then, when you arrive, everything will still be together.

7. Choose the right box size

Packing boxes properly starts with understanding which ones to use: you don't want to over- or under-pack boxes because you chose the wrong sizes. Survey your goods to get a basic idea of everything you have to pack, room by room. Then, choose an array of boxes to accommodate those items. Don't waste space by filling a box halfway — rather, choose a box that's the right size for what you have.

8. Fill large boxes with light items

Lightweight objects — such as linens, clothing or throw pillows — are perfect for big boxes. Why? Even when stuffed full of items, they'll still be doable to lift.

9. Fill small boxes with heavy items

Heavy items, however, such as books or tools, should go inside your smaller boxes. This minimizes the strain of transporting the weight of huge boxes filled with heavy goods. Aim to keep each box at 30 pounds or less, if possible.

10. Pack heavy to light

Even if you're packing medium-size boxes for a move, think strategically about the order in which you pack. For boxes that contain varying weights of items, always start with the heaviest items on the bottom.

11. Tape the top thoroughly

Tape your boxes with clear packing tape, using extra for especially heavy containers.

12. Create an immediate-use box

Even the first day or night in your new place, you will likely need some supplies. Group these items — whether they're toiletries, clothes or cleaning supplies — and put them in a single box marked as "overnight bag" or "first night box." This ensures you'll be able to access necessities without too much trouble.

13.  Don't box furniture or major appliances

Skip the boxes for your largest possessions and use moving blankets instead. Either your movers will offer to wrap them for you, or you can purchase wrapping at a hardware or packaging store.

14.  Label each box thoroughly

Every time you pack a box, use a marker to write all of its contents on the outside — and be specific. In a box filled with the contents of your kitchen drawers, for example, don't just write "kitchen." Enumerate all the specific items — wooden spoons, mixing bowls, cutting boards, etc. — that are inside. This way, when getting to your new location, you won't have to open multiple boxes to find the item you need right away.
When it comes to relocation, planning is key. Make the most of your transition by thinking carefully about how your boxes are packed. Come to Ward North American whether you need commercial or residential moving support.