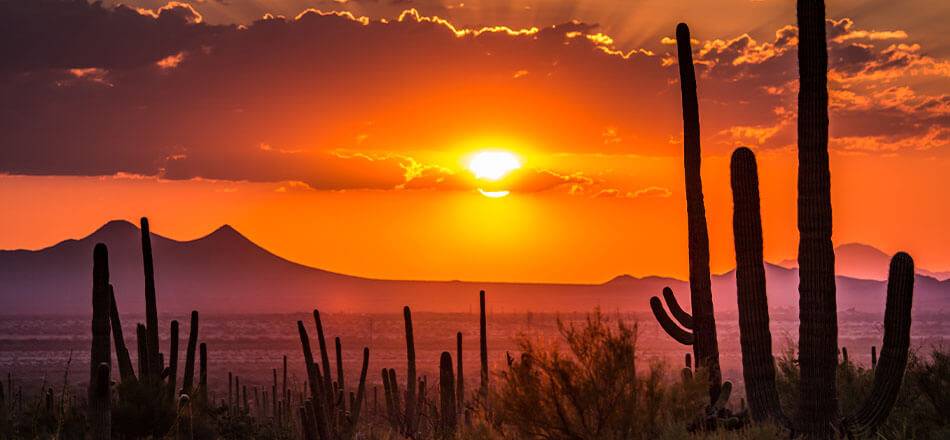 Arizona isn't known for just its beautiful deserts and million-year-old rock formations; it's also a hub of growing culture and technology. From the extremely pleasant weather to the diverse entertainment outlets, Arizona is a great fit for any business or family. Moving to Arizona tips should include more than how to avoid coyotes equipped with dynamite, although we'll be sure to keep a lookout for you.
More and more people are picking up stakes and making Arizona their forever homes. Like any move, it can be stressful and difficult to make a completely hassle-free transition into a new environment. However, it always helps to know what you're up against, so doing your homework will lead to a safer, more seamless transition.
1. Plan accordingly for extreme weather

Arizona is mostly desert, which means mild winters and scorching-hot summers. Temperatures can reach higher than 100°F in the summer and hover around 40°F in the winter. There is an average rainfall of only 13 inches per year, but it's enough to cause flash floods. Hot temps and high humidity are common, making an indoor, air-conditioned space even more enticing.

2. Cost of living is worth the move

Arizona has a decent cost of living. Homes tend to cost less than other states and the job market is booming, giving you a leg up on potentially increasing your current living standards. The overall cost of living in Arizona is about 5% lower than other states and the annual average pay is more than $56,000 per year.

3. Your commute is only as messy as you make it

Most of Arizona's roads are built on a standard grid system. Although there are acres and acres of desert between cities (might we suggest filling the gas tank to avoid getting stranded?), the highways and straight-shot roads grant drivers a quick expedition without GPS confusing your sense of direction. Keep in mind that Arizona is one of the least walkable states in the U.S., though, so public transportation or a personal vehicle is crucial.

4. It's difficult to be bored

There is no lack of entertainment in Arizona. There are a variety of professional sports teams and a plethora of wonderful museums that provide a great day out or a night on the town. A rich Native American culture is waiting to be explored, adding to dense Arizonian traditions. Plus, you don't want to miss ice skating in the desert around the holidays!

5. Don't forget the camera

Arizona's landscapes and dazzling skies are any Instagrammer's dream. To be in the presence of such a natural phenomenon as Grand Canyon National Park, the view truly never gets old. There also are a number of caves and red-rock structures one can spend the day admiring.

6. Cue the final countdown!

Depending on how far you are from Arizona, it helps to get your affairs in order and avoid five trips in your trusty old car from college. Full-service packing, vehicle shipping, and short- and long-term storage are musts when it comes to long moving trips.
If you think our tips for moving to Arizona can help make the journey a bit less stressful, let us do you one better. It's time to find the best in long-distance support to which the answer is clear: Ward North American. Here is a complete guide for every service we offer; contact us for a free quote today!